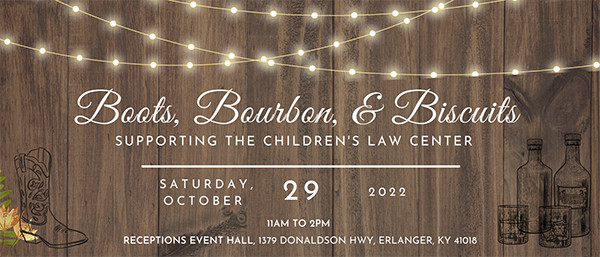 Children's Law Center, Inc. (CLC), a nonprofit legal service center protecting the rights of children and youth, will host a Boots, Bourbon, and Biscuits Brunch supporting CLC's vital services in the Northern Kentucky community.
For over 30 years, CLC has provided high-quality legal representation, policy research, and community education to help youth transition into adulthood in safe and healthy ways. Recognized locally and nationally for its advocacy in the education, child welfare, and justice systems, CLC serves more than 400 youth each year across Kentucky and Ohio while collaborating with other organizations nationwide.
"We're hoping to raise funds so we can continue to represent victims of child abuse and crime, protect educational rights of students with disabilities, remove youths' barriers to employment and housing, and much more," says CLC Executive Director Sasha Naiman. "The need for CLC's services has increased. We are working to meet this need with the help of our community."
The event will take place on October 29 from 11 a.m. to 2 p.m. at Receptions Event Hall located at 1379 Donaldson Hwy in Erlanger. Tickets and sponsorships are on sale at www.childrenslawky.org.
This event will feature live music from Marty and Geo of The Marty Connor Band, entertainment from the Showboat Cloggers, and Big Dave from B-105.1 as the emcee. There will offer a full brunch with a biscuit bar, silent auction, bourbon tasting, open bar, and VIP Saloon.
Supporters already include Platinum Sponsor Foster & Motley, Gold Sponsor Hard Rock Casino Cincinnati, and over a dozen others.
If you are interested in supporting CLC or have questions, please contact Development Director Tephra Fields at 859-431-3313 ext. 157 or Executive Director Sasha Naiman at 859-431-3313 x 115)
Learn more about CLC, its programs, and impact by visiting https://www.childrenslawky.org.
Children's Law Center