Market Assessment – As of Wednesday, September 21, at 9:39 p.m.
On July 4th, 2022 we declared the Bear Market Was Over…and gave 4 picks:
1. Bank Of America (BAC)- $31.56…….It moved up to $36.50 by August 16….within 6 weeks.
2. Walt Disney (DIS-) $96.13………It moved up to $126.00 by August 16…within 6 weeks.
3. PayPal Holdings (PYPL) -$71.40……It moved up to $102 by August 16…within 6 weeks.
4. Amazon.com (AMZN)- $109.56…….It moved up to $146 by August 16…within 6 weeks.
We now think we may have called the bottom of a Bear Market Rally, and not the Bottom of the Bear Market….unfortunately.
In our Sept. 19, Market Letter, we advised our subscribers that we had "sold all positions" on Friday, and that Key Market Support Levels weren't holding and that we would be selling all positions and moving to the sidelines if the DOW closed below 30,500 …which it did Sept. 21.
We showed the TERRIFYING CHART of FedEx (FDX) 153.25 that dropped 45 points on Friday when it came out with disappointing numbers and a gloomy forecast for the economy. And we gave a long list of Quality, High PE, High Priced stocks including:
Dollar General (DG) 243.79
Costco (COST) 514.14
Insulet Corp (PODD) 255.00
Live Nation Entertainment (LYV) 87.08
that we said that we would be SELLING because they are also vulnerable to large declines if they, too, didn't make their numbers.
As you can see from their charts, they have also begun to decline. "Extreme Caution" and "Preservation Of Assets" should be one's prime focus in this dangerous market.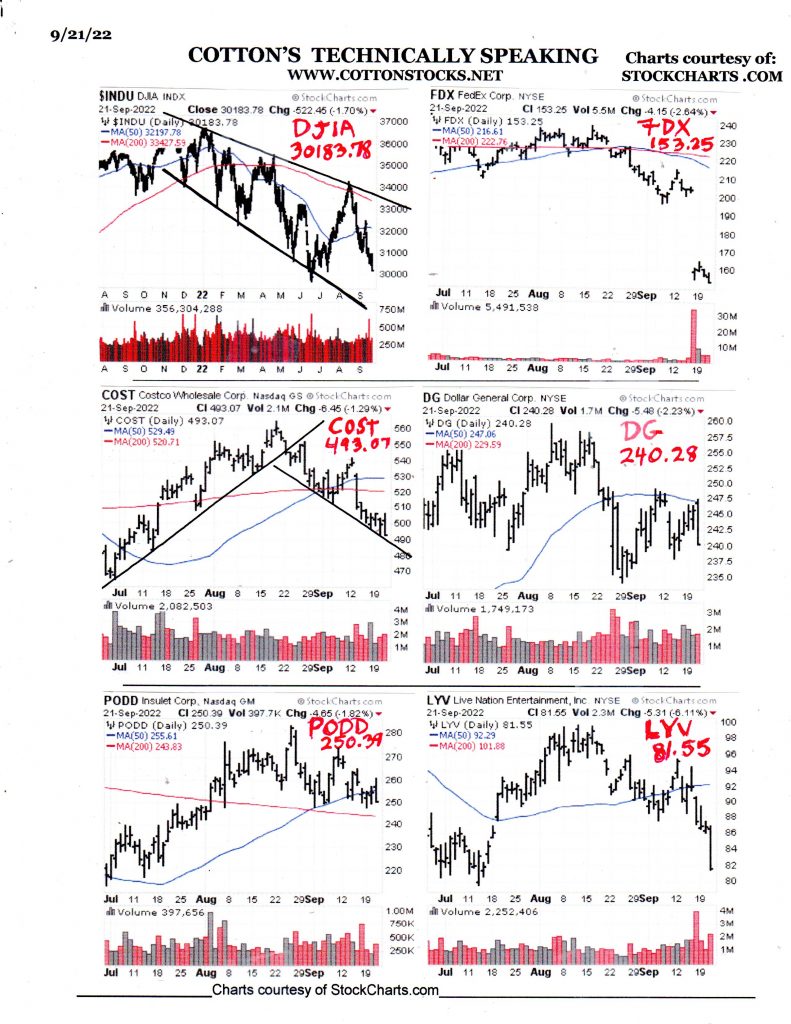 Joe Cotton has won three National Stock Picking Contests with yearly percentage gains in excess of 96%. His 2020 Wall Street's Best stock contest winner was Inovio Pharmaceuticals (Symbol INO) with a 742% 1-Year return.
This article is not investment advice, nor is it in any way to be construed as investment advice. For Investment Advice consult a Registered Investment Advisor or a Certified Financial Planner. Joe Cotton's website is www.cottonstocks.net. NKY's Joseph W. Cotton is publisher of the market newsletter, Cotton's Technically Speaking. He is a graduate of Xavier University, a former bank manager and credit analyst, and a former Fidelity Investments registered investment representative. Contact him at cottonstocks@hotmail.com