By Andy Furman
NKyTribune Reporter
Please don't get upset if Noah Hupmann seems to talk down to you.
He's not being disrespectful.
In fact, Noah Hupmann talks down to, well, just about everyone.
Noah Hupmann is a seven-foot-two-inch basketball player for Northern Kentucky University, and was quite visible as the Norse – men's and women's program – hosted their pre-season media luncheon, Thursday at the Truist Arena on the NKU campus.
"I've never really had what you'd call a growth-spurt," the Covington Catholic High School graduate told the Northern Kentucky Tribune. "I was about 6-10 in 10th grade."
And you'd think someone who plays basketball at that height would be on everyone's call list as a high school senior.
"COVID truly hurt my recruiting process," he said. "Our team lost the ability to play in the State Championship game; that would have truly helped. But Northern has been the perfect fit."
He may have missed the shot at a state basketball title in high school – but Huppman and his Norse teammates may have a shot at another championship this season. Pre-season polls have the NKU men ranked first in the Horizon Conference – the women are fourth.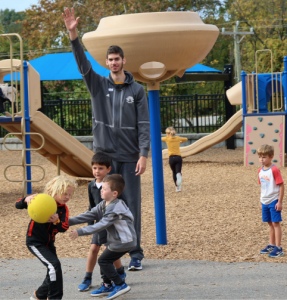 "It's the first time in NKU program history we've been picked pre-season favorites," said Darrin Horn, who coached the Norse to a 20-12 won-loss record last season – and has won 38 of the 56 games he's coached at Northern during his three-years at the helm.
But before Hupmann concerns himself with the Norse's opening game – Monday, November 7th against Kent State — a team picked to win the MidAmerican Conference crown – he has his own problems.
"Being a seven-footer does create some issues," he admitted. "Northern has been great trying to get me equipment that fits; but that's just the beginning.
"Helping my mom do the high-reach cleaning," he said, "that's a plus."
And, as a trade-off – perhaps – Mom Hupmann (Janell) she played tennis at Middle Tennessee State – searches on-line for Noah's clothes.
"Nope," he said, "I can't get clothes off the rack."
He says he sleeps "sideways" on a King -Sized bed; and the major problems he incurs are – cars, doors, planes.
"Almost any vehicle," he said, "but I'm not complaining my height is a gift from God."
And Darrin Horn hopes that gift rallies his team to a championship in the Horizon League.
"We'll be a physical team," the coach told the assembled media, "And this is the first time in four years we return several guys who played significant minutes."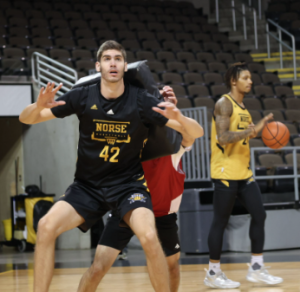 The coach cites 6-1, senior guard Xavier Rhodes, a transfer from Florida Southern College, as "an impact player.
"It's his (Xavier's) fifth-year of college basketball," he said, "but his first at NKU."
Imanuel Zorgvol, a red-shirt freshman is pushing Hupmann for the lead as team's tallest member – he's an even seven-feet and hails from Paramaribo, Suriname – he attended Florida Christian Academy.
"Imanuel just wants to be good," Horn said, "and we haven't had size like this forever."
Fireworks will commence early – November 16th to be exact – when they host the University of Cincinnati.
* * * * *
With four girls over six-foot, head coach Camryn Whitaker looks to prove the so-called experts wrong with a pre-season fourth-place Horizon League finish.
"We're picked behind Cleveland State," she said, "and rightly so, they beat us three-times last year."
Last year saw Whitaker – now entering her sixth season with the Norse – win 21 of 29 ballgames with a 14-6 won-loss conference mark.
"We'll have more size on the perimeter," she said, "more depth and have more of a transition game."
Ivy Turner, a 5-4 senior returns with her 13.4 points-per-game average, and help should come from Kailee Davis, a sophomore from Detroit Renaissance High School.
Team leading scorer from a year ago – 5-8 Lindsey Duvall at 16.5 points-per-game – also is a returnee.
"Kailee will help create more off-the-ball screens," Whitaker said. "So will Whitney Hay, a six-foot junior transfer from Belmont."
The women host Indianapolis in an exhibition, Friday, November 4th and open with Lipscomb, Thursday, November 10.
The ladies host the University of Cincinnati, Wednesday, December 21st.
But there was one thing that stood-out throughout the entire media festivities – Noah Huppman.
He was head and shoulders above them all.
He usually is.