Kenton County Public Library is offering a number of activities throughout the month of December to celebrate the holidays.
KCPL's three branches — Covington, Independence and Erlanger — will feature light displays, visits with Santa, a holiday alpaca, crafts and more this holiday season.
Scheduled events include: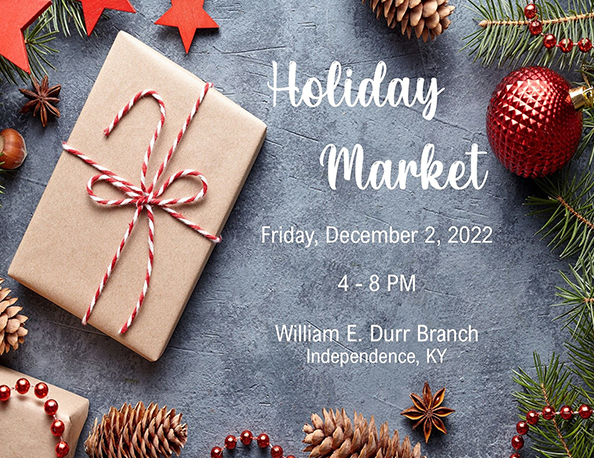 • Holiday Market
Friday, Dec. 2, 4-8 p.m.
Independence Branch
Enjoy live music and hot cocoa while you browse the vendors to find one-of-a-kind holiday gifts made by local artists and crafters.
• Model Trains for the Holidays
Saturday, Dec. 3, 10 am 5 pm & Sunday, Dec. 4, 1-5 p.m.
Covington Branch
Tri-State NTRAK showcases its model train display, specially designed scenery and model train layouts.
• Shop 'til You Drop Used Book Sale
Sunday, Dec. 4 through Saturday, Dec. 10; library hours.
Erlanger Branch
A book is a gift that always fits. Shop the Friends of the Library Used Book Sale. Proceeds support library programs and services. Sale closes 30 minutes prior to the library. Saturday, fill a bag for $5.
• Holiday Celebration
Sunday, Dec. 4, 1:30-4 p.m.
Covington Branch
1:30 p.m. – The Space Painter presents a Dicken's classic.
2:30-4 p.m. – Pictures with the holiday Alpaca, Register by calling 859.962.4077. Classic holiday music, Festival of Lights craft, Kwanza-inspired treats, reindeer games and an ornament workshop.
• Concert: Cincinnati Civic Orchestra
Thursday, Dec. 8, 7-8:30 p.m.
Erlanger Branch
The Cincinnati Civic Orchestra will delight you with holiday selections during the performance for all ages.
• Winter Wonderland
Friday and Saturday, Dec. 9 & 10, 6-8 p.m.
Erlanger Branch
Enjoy live holiday musical performances, a glow party for kids and a train display, crafts, a holiday photo booth and circus performers. Greet Santa and Mrs. Claus when they arrive on a fire truck at 6 p.m. Treats available for purchase from Chloe's Creations.
• Holiday Pictures with Miniature Horses
Tuesday, Dec. 13 and Wednesday, Dec. 21, 1-3 p.m.
Independence
Stop by to get a photo with Ranger or Silver, two miniature horses from Milestones, Inc.
• Winter Folktale Expo
Tuesday, Dec. 13, 5-6 p.m.
Erlanger Branch
Join the Homeschool community for a winter Folktale Expo. Enjoy their presentations and displays as you learn about these interesting winter tales from around the world.
• Close Knit Community
Wednesday, Dec. 14, 2-4 p.m.
Covington Branch
We will be hosting a knit/crochet-a-thon where all items (blankets, hats, gloves and so on) will be donated to charities. Supplies will be provided.
• A Madcap Christmas Carol
Saturday, Dec. 17, 2-3 p.m.
Erlanger Branch
Madcap turns this Christmas ghost story into a fantastically funny tale, bringing your favorite Dickens characters to life with giant puppets and exciting new twists.
• • • • • • • • • • • • • • • • • • • • • • • • •
The library is also reminding patrons of opportunities to personalize items and make gifts in the maker spaces. Appointments and training are required. For more information or to register for programs, visit kentonlibrary.org or call 859.962.4000 for more information.
Kenton County Public Library