What could be sweeter than an afternoon of publishing how-to discussions, book signings, door prizes of fine Kentucky bourbon and fun for Valentine's Day? Come to the free-admission inaugural Books, Baubles & Bourbon Regional Mini Bookfair, 10 a.m. to 4 p.m. Saturday, Feb. 11, at Second Sight Spirits in Ludlow, one of Northern Kentucky's most popular distilleries.
Learn from the authors: Six authors will share publishing tips and discuss their latest books in the local interest/travel, true crimes, mystery, sports, music and history genres. You'll have a chance to buy books for your Valentine or yourself or to get through the cabin fever days of winter.

Authors presenting at Bookfair:
True Crime writer Jane Simon Ammeson, author of America's Femme Fatale: The Story of Serial Killer Belle Gunness, Murders That Made Headlines: Crimes of Indiana, and A Jazz Age Murder, will talk about how to research and write true crime books.
Mystery/thriller author Dan Andriacco, whose 24 books include The English Garden Mystery and Queen City Corpse, will discuss how he goes about writing his mysteries and where he gets his ideas. A Sherlock Holmes aficionado, he is a member of the Baker Street Irregulars and editor of The Baker Street Journal.
Career newsman, reporter, editor and columnist Peter Bronson, owner and publisher of Chilidog Press, which publishes about a dozen book titles each year, will share publishing tips and present a Q&A about Chilidog Press. Bronson is the author and co-author of 10 books, including his latest series about the mob in Cincinnati and Northern Kentucky: Forbidden Fruit: Sin City's Underworld and the Supper Club Inferno and Not in Our Town: The Queen City vs. The King of Smut.
Other authors attending Bookfair:
John Kiesewetter, author of Joe Nuxhall: The Old Lefthander & Me, is well known in Cincinnati as a TV/media reporter and columnist with Cincinnati Public Radio, WVXU-FM and the Cincinnati Enquirer. He is also a long-time Reds fan.
Steven Rosen's book, Lost Cincinnati Concert Venues of the '50s and '60s: From the Surf Club to Ludlow Garage, was published in 2022. Rosen has written for the Cincinnati Enquirer, Denver Post, Cincinnati CityBeat and other newspapers. He founded National One Hit Wonder Day and started a music fanzine called One Shot.
Kathy Witt is an award-winning author and features writer who focuses on travel and local interest. Her six books include the newly published Cincinnati Scavenger: The Ultimate Search for Cincinnati's Hidden Treasures and Secret Cincinnati: A Guide to the Weird, Wonderful and Obscure—perfect for date nights and family fun outings alike.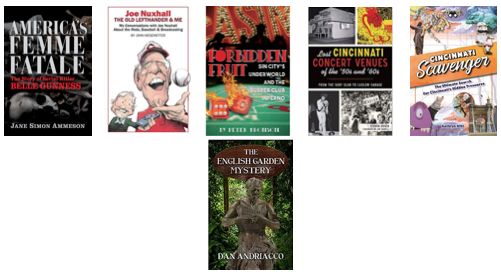 Bringing gift ideas for Valentine's Day and other occasions to Bookfair:
Hail – Records & Oddities, a unique gift shop located in Covington's Mainstrasse is showcasing some of their favorite baubles—jewelry made of butterflies, bones, bugs, and stones, framed butterflies, moths and beetles. For those interested in the more mysterious side of things, they also feature a nice selection of vintage tarot cards, metaphysical goodies and long lost recordings.
Hosting Bookfair:
Second Sight Spirits, an artisan distillery focusing on premium, local products presented in an innovative way. A member of the Kentucky Bourbon Trail's® Kentucky Bourbon Trail Craft Tour, this one-of-a-kind distillery with self-built still, tasting room and lounge, coffee bar, crystal balls and Magic 8 balls, is on the B-Line, Northern Kentucky's self-guided bourbon trail.
Baubles & Bourbon Regional Mini Bookfair
Saturday, February 11, 2023
10 a.m. to 4 p.m.
Admission is free.
Second Sight Spirits
301 Elm Street, Ludlow