Green Umbrella's 10th annual conference for environmental advocates, the Midwest Regional Sustainability Summit, will take place on May 12 at the Duke Energy Center in Cincinnati and feature keynote speaker Dr. Katharine Wilkinson.
The Midwest Regional Sustainability Summit brings together hundreds of visionary leaders to share inspiring, forward-thinking, and solution-oriented ideas that propel us toward a healthier, more resilient, sustainable, and equitable future.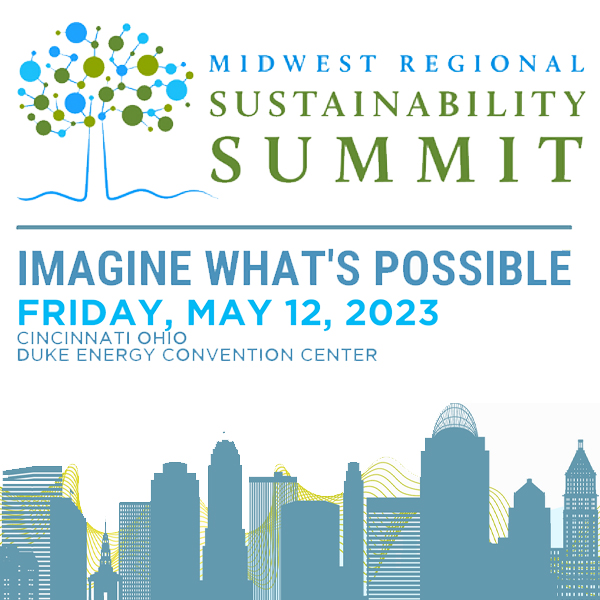 Green Umbrella is accepting submissions from those interested in presenting short talks, leading workshops, participating in panel discussions, or displaying art at the Summit.
This year's Summit theme of "Imagine What's Possible" invites us to explore possibilities that empower and motivate us to build a more vibrant and equitable region. Submissions may explore this theme through a variety of climate-related topics, including but not limited to: healthy and resilient communities, local food systems, justice and equity, green workforce development, high-performing infrastructure, and clean transportation.
Nominations for the 2023 Summit awards are open now. Organizations, individuals, businesses, and communities that make strides in the areas of impact, innovation, and leadership can be nominated for recognition of their accomplishments at the Summit. Summit submissions and nominations will be accepted through January 31.
This year's keynote speaker, Dr. Katharine Wilkinson, is a bestselling author, strategist, and teacher. She leads the All We Can Save Project and co-hosts the podcast A Matter of Degrees. Her TED Talk on climate and gender equality has over 2 million views and she has been featured by Time magazine as one of the 15 women leading the fight against climate change.
To learn more about the Midwest Regional Sustainability Summit, or to discuss sponsorship opportunities, contact Charlie Gonzalez at charlie@greenumbrella.org.
Green Umbrella