Homearama® "Urban Edition 2023" will be coming to Newport in June.
Mark your calendars.
For the first time Homearama will be held in Northern Kentucky, with the luxury home show coming to Newport's Martin's Gate. The Greater Cincinnati region's two chapters of the National Association of Home Builders are working together with local residential developers on a new home show in Northern Kentucky.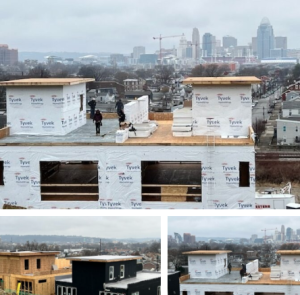 Urban Edition will feature nine (9) homes in a variety of architectural styles. Show homes will range in price from $1M and up.  he homes will average 2,619 square feet and include an attached 2-car garage and a roof deck. Show builders include Thomas J. Ackermann Building Co., Inc. – 2 townhouses; Ashford Homes, LLC – 2 single family show homes and 2 townhouses; Homes By Gerbus, Inc. – 1 single family show home; and, Meierjohan Building Group – 2 townhouses.
The Martin's Gate Neighborhood project is the development of a 4.23-acre site into 58 lots for attached and detached for-sale single family homes. The site is located on a hillside in south Newport that overlooks downtown Newport and has excellent Cincinnati skyline views. This site's re-development will create a new urban village in Newport close to many of Northern Kentucky's urban attractions and amenities and has suburban conveniences such as garage parking.
The development site is located along the north and south sides of W. 13th Street, from Central Avenue on the southwest, and extends to 14th Street on the southeast. It is separated from the dense historic residential neighborhood to the north in Newport's basin by elevation and a railroad track.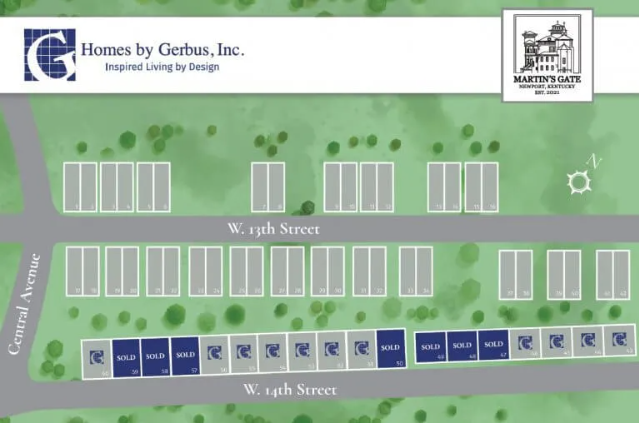 The site's northern edge is the border of a hillside neighborhood of single-family homes built between the 1800s and the 1960s. In recent years, this area of Newport has experienced significant interest by residential buyers. Because of the extraordinary views available on the hilltop, single family homes on the streets immediately adjacent to the project site have undergone significant renovations in recent years, and many new homes have been built nearby to capitalize on the view.
The HOMEARAMA® – Urban Edition portion of the project will consist of 18 lots for detached single family homes on the north side of 14th Street. The remaining 40 lots are located on the north side of 13th Street and the south side of 14th Street. Thomas J. Ackermann Building Co., Inc., LLC, Ashford Homes and Meierjohan Building Group will construct attached townhouse-style units (duplexes) and sell them to individual home buyers. There are three different floor plans for the townhouses with square footage ranging from 2,830 – 3,190 and sale prices range from $700,000 and up. The project's housing design theme is attractive in that the units are contemporary yet contain design elements and scale appropriate for their urban setting.  
2023 Show Dates: June 10th – 25th / Show Hours: Monday – Thursday 4–9 p.m. / Friday – Sunday noon-9 p.m.
City of Newport