Hey, or should I say 'Who dey'?… what about those Bengals? It was a tough last-second loss to the Chiefs to keep them out of their second straight Super Bowl, but it was a great season regardless. The NFL bigwigs, outsiders, and even fans watching took a while to realize, but the professional football team — formerly known derisively as the Cincinnati "Bungles" — has now become a serious player in professional football.
And oh, those memories associated with the Bengals franchise…
Growing up in the northern Kentucky area, I became a Bengals fan as a child. It was in the late 1960s and long before today's star quarterback, Joe Burrow, was born. And though the first decade of the team's existence brought enough winning to spur my interest, a long dry spell of losing would come in later years, especially in the 1990s.
Though the Bengals played in two Super Bowls in the 1980s, they had many more seasons with poor records. In time, they became, embarrassingly, the Bungles, and for longtime fans like me, it almost became difficult to admit to being a fan.
Over the years, I sat on my couch watching the woeful Bengals and many times wondered why I was wasting my time. Perhaps it was because of the pleasant memories I had conversing with my father about the team many years ago; Bengal talk (along with Reds talk) simply helped us become a little bit closer when it was more difficult for us to talk openly about other things.
Indeed, winning changes things, and the team sitting on this section of the Ohio River is now being termed elite in status, a legit pro football franchise. No more "Bungling" around, at least for the foreseeable future. And as I'm wont to do, I like to think of the team's connections to Kentucky.
An obvious one (besides Paycor Stadium being right across the Ohio River from Newport and Covington) is the town of Georgetown, where from the late 1990s to 2011, the Bengals held their summer training camp. I'm quite sure the Bengals gained quite a few Bluegrass state fans during that time. I'll never forget the fun times when visiting the practices there with my stepson, Ramon Greene, where it was fan-friendly and relatively easy to get physically close to Bengal players.
One of the names associated with football that I often heard as a youngster in the 1960s was Homer Rice, who served the 1978-79 seasons as the Bengals' head coach, though he had a losing record. Rice had quite a Kentucky-filled resume developed well before that, however.
Born in Bellevue and raised in Pineville, Rice coached at Highlands High School, in Ft. Thomas, from 1954 to 1961. During that time his powerful teams had a fifty-game winning streak and won three state championships. He later assisted at UK and Oklahoma and had head coaching jobs at Rice and the University of Cincinnati. He also served many years as Georgia Tech's athletic director.
Trent Taylor is a wide receiver and punt returner for today's Bengals. As a child, he lived with his parents in Corbin, where he played flag football until his family moved after his second grad year.
Former Bengal star placekicker Doug Pelfrey, who was born in Ft. Thomas, played college football for Kentucky. He was a Bengal from 1993 to 1999. Praised often for his good character, he was awarded the 1999 "Whizzer" White NFL Man of the Year Award.
Another Kentucky Wildcat footballer, Marc Logan, was drafted and played for the Bengals in 1987 and '88 (playing in Super Bowl XXIII. Logan, born in Lexington, played on three other NFL teams, including being in a Super Bowl with the 49ers.
Rex Burkhead, born in Winchester, was drafted by the Bengals out of the University of Nebraska in 2013. He played with the Bengals through 2016. He became a New England Patriot in 2017 and currently plays for the Houston Texans. His father, Rick Burkhead, played college football for Eastern Kentucky University.
I likely left out some other connections of Kentuckians to the Bengals, so feel free to contact me via email at sflairty2001@yahoo.com and share what you have.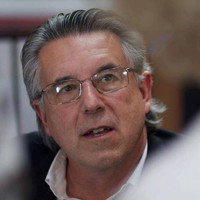 Steve Flairty is a teacher, public speaker and an author of seven books: a biography of Kentucky Afield host Tim Farmer and six in the Kentucky's Everyday Heroes series, including a kids' version. Steve's "Kentucky's Everyday Heroes #5," was released in 2019. Steve is a senior correspondent for Kentucky Monthly, a weekly NKyTribune columnist and a former member of the Kentucky Humanities Council Speakers Bureau. Contact him at sflairty2001@yahoo.com or visit his Facebook page, "Kentucky in Common: Word Sketches in Tribute." (Steve's photo by Connie McDonald)