Deep in the heart of Nashville, Tennessee there is building that once upon a time was a former church.
It was the Unity Baptist Tabernacle built in 1892 and later became known simply as "The Ryman."
The Ryman located downtown on 5th Avenue North was home to the Grand Ole Opry from 1943 to 1974.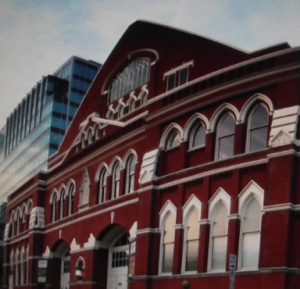 It was the perfect place as it seated 2,362.
Over in southern Missouri, there is a small vibrant town of 12,000 named Branson. Its 455 miles from Nashville or about a 7 hour drive to the Ozarks.
The commonality of these two cities is that they both have one goal, and that's to entertain you.
Nashville is the Home of Country Music of today. The nightlife in Music City resonates loud and clear with the stars leading the way, and if you visit, you indeed will be entertained.
Through my decades of broadcasting, I was blessed to have spent treasured times in both of these incredible centers of entertainment.
My career began in 1961 at WIRO. A few years later in 1967, I became Program Director of WTCR, a 5,000 Watt radio station owned by Country Music Legend, Connie B. Gay. Gay owned 7 radio stations and several TV stations as well.
WTCR which had been on the air since 1954 and featured country music was his newest acquisition.
Country Music in 1968 was booming nationwide with stations that had streamlined their images with the new and exciting "Nashville Sound" that was simply dynamite.
So, the new WTCR was borne commencing with my assignment as Program Director. First order of business was the forming a fantastic new staff with a direct goal to obtain new listeners and more importantly, keep them.
Our new sound was booming all over our market yielding great success and we were off and running which was pleasing Gay.
He was a co- founder of the Country Music Hall of Fame and the Country Music Association which he served as its first President and also a former DJ that in time discovered and managed Patsy Cline and Jimmy Dean.
In fact, around Music City he was known as a Country Music visionary and a true founding father.
In 1980, Gay was inducted into the Country Music Hall of Fame.
I am very proud to share the Hallowed Hall of the West Virginia Broadcasting Hall of Fame with Gay as he was inducted in 2006. I was inducted in 2010.
There was one thing about Connie B Gay that caught my attention. He knew where he was going, and he knew how to get there.
In late 1967, I received a phone call from Gay's office with the message that he wanted to meet with me in Music City. So, arrangements were quickly made and I was off to Nashville with my handy camera to have some key photos taken.
A few of these vintage photos are included here. I hope you enjoy them.
Gay's plan was for me to become very visible in Music City via the Grand Ole Opry, CMA, and WSM Radio as well as the top key recording labels located on Music Row also known as 16th Avenue South.
Subsequently, I received a back stage pass to the Ryman which gave me great access to the County Music talent who were regularly performing there.
In fact, I met the legendary Little Jimmy Dickens backstage one Saturday night and we made plans to " hit the town" after the Opry performances.
Our first stop was historic "Tootsie's Orchid Lounge." This Honky Tonk was famous for the signatures of Country Music Legends such as Hank Williams who carved their names on the tables and walls.
Speaking of entertainment, at 12 Midnight, it was time to visit the historic, "ERNEST TUBB'S RECORD SHOP." Likely, you would find Ernest and his famous Troubadours entertaining the crowd on a LIVE Radio Show from there.
However, the Ryman and the Grand Ole Opry was the epicenter of it all.
This was where it was happening.
My name was on the Ryman Pass list and as such, I never took it all for granted. It was indeed a privilege to even walk through the door.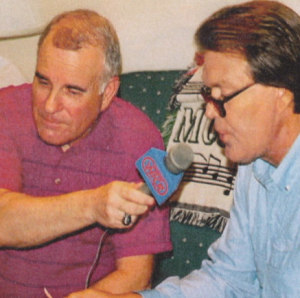 Spending time backstage with legends such as Charlie Walker, Johnny Duncan, Warner Mack, Johnny Darrell and Skeeter Davis was indeed a dream come true.
Years later in 1995 I was asked to return to WTCR to reprise my very popular "Mike in the Morning Show " of the late '60's. My return would be punctuated with a huge promotion giving listeners a chance to win an all expense trip for two covering 5 days to Branson, Missour.
Eventually a very happy Richard and Janet Potter won it all and we set sail to the Ozarks.
The Potters' won front row seating and a back stage pass to meet four super stars at their respective theaters.
I selected concerts from these four Legends, Glen Campbell, Mickey Gilley, Mel Tillis and Charlie Pride.
Sadly, over the last 28 years all four have passed, but indeed their legacy lives on today.
Frankly, I was in total awe to even sit in the same room, let alone to have magic moments with them.
Glen Campbell was incredible. We covered his legendary career at length and then I asked him about appearing in the movie "True Grit?"
With a huge smile he said, 
"Really, I tried to talk the producer out of having me killed off in the movie, but he told me, "Glen, you gotta go."
After the Mel Tillis show, we were invited to meet with him in the basement of his theater which is where he lived as well. Mel covered his fine career and even invited me to join him on a cruise. When we entered Mickey Gilley's backstage area, he saw us and jumped off a treadmill and shook my hand saying, "Hi, I'm Mickey! "The hour passed quickly as we chatted about his Texas Night Club " Gilley's" and his tremendous career.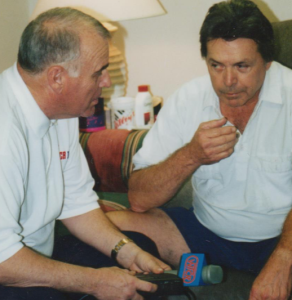 Next, was a visit to the Charlie Pride Theater.
This location was very special because in the lobby of the theater is a radio control room where visiting DJ's broadcast their shows LIVE.
Yes indeed, my WTCR "Mike in the Morning Show" hit the airways each day we were in Branson.
Charlie Pride's career was iconic and legendary. Our conversation was just perfect as we covered his fine career and success and the fact, that he was a great baseball player as well.
So, now you know how Nashville and Branson have so much in common.
If you make the trip to either or both of these cities, you can almost hear a huge loud welcome as you get closer, "Let us entertain you and WELCOME."
By the way…I recommend it all.
On the other side of the coin, over the years, I have met and became friends with hundreds of recording artists and our conversations were always fantastic.
Today, I am very proud member of the West Virginia Broadcasting Hall of Fame having been inducted in 2010.
Those years spent in Music City and through my long career are without any doubt, a dream come true.
They would be for any DJ.
It's been quite a ride.
Mike Tussey has "retired" from a 60-plus-year career as a legendary play-by-play announcer for over 2000 football, baseball, and basketball games, including most recently for ESPN+. His career also includes a stint in law enforcement, teaching and coaching, and writing books, including the "Touchdown Saints." He grew up in Eastern Kentucky and now lives in Florence with his wife, Jo. He has opened another "Door of Opportunity" and will now be a regular columnist for the NKyTribune.