By Patricia A. Scheyer
NKyTribune reporter
President Joe Biden visited Covington Wednesday, the first president to make Covington a destination visit since Franklin Delano Roosevelt visited the Latonia Race Course in 1938.
Biden immediately reminded everyone about the $1.635 billion in federal funds that has been earmarked for a replacement bridge across the river, and an extensive repair of the current Brent Spence, as he stood at the podium almost under the Clay Wade Bailey bridge with the Brent Spence bridge in the background.
"For decades people have talked about the Brent Spence bridge. Well folks, the talking is over," he stated. "We're finally going to get it done. I wanted to start off the new year here in Kentucky with a bipartisan group of individuals because I believe it sends an important message to the entire country, that we can work together. We can get things done. We can move the nation forward. We just drop a little bit of our egos and focus on what is needed in the country."
He went on to say that this bridge was built in 1963, with the goal of carrying 80,000 vehicles a day. Very quickly the amount of vehicles rose until now it carries twice as many as it was originally designed to accommodate.
The Brent Spence, Biden continued, is one of the nation's busiest freight routes. Truck traffic on I-75 alone carries $2 billion of freight a day between Florida and Canada. Biden said it is the second most congested truck bottleneck in the entire United States. He called it a notorious gridlock, and cited an accident a few years ago that shut down the bridge, affecting businesses and causing local residents to seek other routes to work.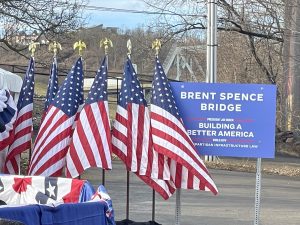 "Folks, this is the United States of America, for God's sake," Biden said. "We know — and now we're proving, we're much better than we've been in the recent past."
He said fixing the bridge and building a companion bridge will help local residents, and emergency vehicle traffic, ensuring they will all have safer commutes.
Biden praised the efforts of all the main players involved with garnering the money for the bridge, including Kentucky Governor Andy Beshear, Ohio Governor Mike DeWine, Senators Sherrod Brown, Rob Portman, and Mitch McConnell. He reiterated what the other speakers said, that the effort required working across the aisle, and that effort to find common ground needs to be praised and replicated in other matters.
He told the audience of Union members and Ironworkers that this is not an isolated incident, that the vice president was in Chicago to announce help for four bridges there, and Pete Buttigieg was in Connecticut to announce help for rebuilding a bridge there. He said it is not just bridges– the bill includes $127,000 to rebuild the Western Hills viaduct. He said the bill also includes money for high speed internet.
Biden insisted the emphasis will be on buying American. He said he won't sign anything that Congress passes unless it includes buying American.
"These are good jobs you can raise a family on," he stated. "And most don't require a college degree. All this is about making an investment in America's heartland, and America's people, and America's future. It's about making things in America again. It's about good jobs. It's about the dignity of work. It's about respect. And folks, it's about damn time we're doing it."
He told the audience you can't have the best economy without a good infrastructure.
"It is about pride, simple pride, pride in what we can do, and what we can do if we do it together, " he said. "After years of divisive politics, there are bright spots across the country and the Brent Spence is one of them. Our best days are ahead of us. I have never ever, ever been so optimistic about America's prospects, we just have to remember who in the hell we are. We are the United States of America and there is nothing, nothing beyond our capacities when we do it together."