The Prichard Committee for Academic Excellence has been awarded a five-year grant from the United States Department of Education (USDOE) in the amount of $47,254,77.
The grant will support collaboration between the Prichard Committee and local school communities to establish effective and evidenced-based "community schools" for students and families most in need of removing barriers to learning.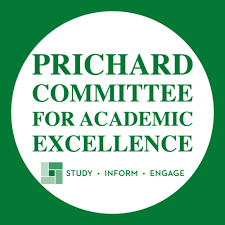 Over the course of the grant, the Prichard Committee will work with up to 40 school-community partnerships statewide. The first cohort of eight includes two schools each in Jefferson County, Owensboro Independent, Daviess County, and Rowan County. $30 million of the total grant award will go directly to communities and schools following community conversations about need and greater alignment and coordination of existing community services – with the goal of improved education outcomes while in school and after high school graduation.
"To realize sustained improvement in academic outcomes, and to break cycles of generational poverty, communities need to be at the table, with schools, to ensure all assets available are utilized to support student success and to protect time for teachers to do what they do best—teach," said Brigitte Blom, president and CEO of the Prichard Committee. "We are excited by the opportunity this grant presents for deepened school-community partnerships and are grateful for the first cohort of school districts who said yes to this opportunity."
The statewide effort will provide proof points for scaling of promising approaches to implementing the four pillars of community schools:
1) integrated student supports that address out-of-school barriers to learning through partnerships with social and health service agencies and providers;
2) expanded and enriched learning time and opportunities;
3) active family and community engagement; and
4) collaborative leadership and practices (including high-quality teaching).
The Prichard Committee will work with the College of Education, Evaluation Center, at the University of Kentucky to evaluate the impact of the work and to contribute to the growing body of research on effective community schools.
Community schools provide a range of services to meet the unique needs of students, families, and the broader communities they serve. Studies have found that well-implemented community schools can lead to improved student and school outcomes, particularly for students in high-poverty schools.
"We are pleased that a number of other school districts in the state received local or regional grants from the USDOE and that Partners for Rural Impact (PRI), located in Berea Kentucky, also received a scaling grant for concentrated work in Appalachia," said Blom. "We are especially excited to be doing this work alongside Dreama Gentry and her team at PRI."
Prichard Committee for Academic Excellence