By Tom Loftus
Kentucky Lantern
A record amount of nearly $24.2 million was spent lobbying the Kentucky General Assembly in 2022, according to reports filed by the hundreds of corporations, associations and other groups registered to lobby the legislature.
Reports filed by the groups show that the Kentucky Chamber of Commerce continues to be the biggest-spending group in trying to influence Kentucky lawmakers. According to totals posted on the website of the Kentucky Legislative Ethics Commission, the chamber reported $408,301 on legislative lobbying in 2022.
The chamber last year saw passage of two of its priority bills: House Bill 8 which reduced the state income tax and House Bill 4 which restricted unemployment benefits.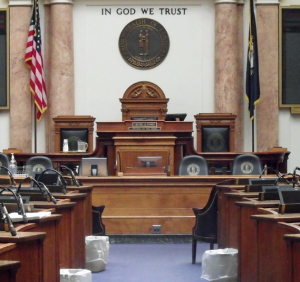 Records on the ethics commission website show the Kentucky Hospital Association reported spending the second largest amount on lobbying last year at $304,707. Tobacco company Altria Client Services, parent of Philip Morris USA, was third at $269.685.
The ethics commission website also posts a list of how much individual lobbyists were paid last year, and the lobbyist who was paid the most in 2022 was John McCarthy, a former chairman of the Republican Party of Kentucky. According to the ethics commission website, McCarthy was paid $967,727 by the nearly 100 different groups he represents.
These numbers, all from the ethics commission website, could inch up slightly because a few groups had not yet filed reports disclosing their spending in the final five months of 2022.
COMPANIES AND ORGANIZATIONS
Here are the 20 groups that reported spending the most on lobbying the General Assembly in 2022:
• Kentucky Chamber of Commerce, Frankfort, business association, $408,301
• Kentucky Hospital Association, Louisville, hospital association, $304,707
• Altria Client Solutions, Richmond, Va., tobacco, other issues, $269,685
• ACLU of Kentucky, Louisville, $195,489
• Kentucky Medical Association, Louisville, doctors, $157,416
• Kentucky League of Cities, Frankfort, city government association, $151,308
• HCA Healthcare, Nashville, hospitals, $146,548
• Pharmaceutical Care Management Assn., Washington, D.C., pharmacy benefit managers, $142,257
• Kentucky Retail Federation, Frankfort, retail stores, $142,237
• Pace-O-Matic of Kentucky, Duluth, Ga., maker of games sometimes referred to as "gray machines,"$136,416
• Kentucky Distillers Association, Frankfort, bourbon distillers association, $135,624
• Healthcare Distribution Alliance, Arlington, Va., pharmaceutical issues, $128,578
• Academic Partnerships LLC, Dallas, education, $127,500
• LG&E and KU Energy, Louisville, electric utility, $121,669
• Greater Louisville Inc., Louisville, business association, $117,512
• Anthem Blue Cross & Blue Shield, Louisville, insurance, $115,972
• LifePoint Health, Brentwood, Tenn., hospitals, $110,002
• AT&T, Louisville, telecommunications, $109,618
• Churchill Downs, Louisville, horse racing, historic horse racing machines, $105,852
• East Kentucky Power Cooperative, Winchester, electric power cooperative, $103,856
INDIVIDUALS
Here is a list of the 20 people who were paid the most money to lobby the General Assembly in 2022, according to the ethics commission website. Each of these lobbyists represents many different clients. Below each name and dollar amount is the number of clients the lobbyist currently represents along with three examples of the lobbyists clients:
John McCarthy, $967,727
96 clients including Altria Client Services, Pfizer, and Stride Inc.
Patrick Jennings, $706,775
60 clients including Stronach Group, Kentucky Hospital Assn., and The Jockey Club
Bob Babbage, $704,300
37 clients including Cash Express, Pearson Education Ltd., and Kentucky Lions Eyebank
Ronny Pryor, $651,850
10 clients including HCA Healthcare, Gainwell Technologies, and LifePoint Health
Sean Cutter, $639,609
51 lients including Keeneland Association, RAI Services, and U.S. WorldMeds
Stephen Huffman, $631,000
23 clients including Revolutionary Racing, The Red Mile and IGT
Chris Nolan, $564,115
52 clients including Amgen Inc., Service Contract Industry Council, and Teledoc Health
Jason Bentley, $524,059
46 clients including Amgen Inc., Kentucky distillers Assn., RAI Services
Amy Wickliffe, $511,046
85 clients including Churchill Downs, Kentucky American Water, and Kentucky Employers Mutual Insurance
Karen Thomas-Lentz, $488,750
47 clients including Swisher International, EPIC Pharmacies, and CSX Corp.
James M. Higdon, $485,680
51 clients including Service Contract Industry Council, Lexis Learning Systems, LG&E and KU Energy
Trey Grayson, $485,651
30 clients including Academic Partnerships LLC, Lancaster Colony Corp., and Secure Elections Project
Steve Robertson, $477,117
30 clients including Secure Elections Project, Academic Partnerships LLC, and Wellpath
Laura Owens, $457,750
32 clients including Uber Technologies, Dealertrack Registration and Titling Solutions, and Baptist Health
John Cooper, $419,640
30 clients including Toyota Motor North America, Kentucky Medical Assn., Kentucky Bankers Assn.
Jason Underwood, $401,500
7 clients including heaven Hill Distilleries, Cannon Cochran Management, and American Wagering
Kelly Abell, $389,334
25 clients including Brightspring Health, McKesson Corp., and Philanthropy Roundtable
Katherine Hall, $339,215
58 clients including Kentucky Association of Health Care Facilities, EmsanaRx., and Stronach Group
Mike Biagi, $322,478
19 clients including Kentucky Downs, Philanthropy Roundtable, and Appalachian Racing
Leigh Thacker, $314,037
31 clients including Sportsbetting Alliance, Kentucky Press Assn., and Mountain Comprehensive Care.