By Ryan Clark
NKyTribune reporter
When it comes to the Brent Spence Bridge project, Covington's theme seems to be this: Sometimes you have to play ball to get the best possible scenario for your city.
And it's worked.
At least, that's what Mayor Joseph U. Meyer would say. It's all a paraphrase, of course, but at this week's meeting, Commissioners heard a proposal that is connected to the project, so the Mayor gave another discourse on the history, as well as the many wins, the Commission has earned along the way. This time, the proposal would have the Mayor sign an agreement with the Kentucky Transportation Cabinet (KYTC), which is required to make a De Minimis Determination to minimize harm caused to Goebel Park as a result of the project.
"A prior agreement had been entered into in 2012 which included replacing taken land, restoration of affected trails, and funding to replace a basketball court," city documents say. "After entering into further discussions with KYTC, the agency has further agreed to include in its determination an additional $1.3 million in funding to replace the Goebel Park pool and $100,000 to update the park's master plan."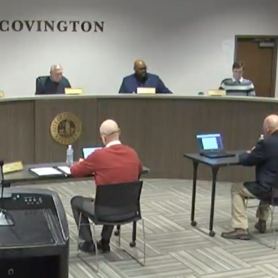 Another win, Meyer would say. And the Commission agreed, but not before there was discussion.
"I believe that we should push for more compensation from the state in the taking of recreation land — open space lands — from the citizens of Covington," said Commissioner Nolan Nicaise. "I would like to see us push further."
He specifically asked for things like more protected walkways or sidewalk improvements for compensation. "I don't think that we should approve the Minimis without pushing more," he said.
The Mayor then responded with a list of the improvements that have been made to the deal since the city came to the table to work with the Transportation Cabinet, including:
• The project is being funded without tolls.
• The transportation cabinets of two states have substantially reworked their 2012 plans.
• The project itself has been scaled back.
• The bridge width was reduced 42 percent.
• The land required in Kentucky was reduced from 24 acres to 13 acres.
• The number of families that will be relocated as a result of the project was reduced from 118 to four.
• The number of businesses to be taken was reduced from 18 to 11.
• The historic preservation compensation for Lewisburg has been tripled from $400,000 to $1.2 million.
• On the environmental side, the Transportation Cabinet agreed to a new storm sewer to address the flooding issues on Highland Avenue and Euclid Street.
• The Cabinet also agreed to noise barriers to address the longstanding concerns of Peaselburg and other neighborhoods.
• They have also agreed to explore other noise reduction concepts.
• They've agreed in principle to replace far more tree canopy than will be lost.
• They've agreed that Covington will have an ongoing place at the table as members of key committees including the overall project advisory committee and the aesthetics committee.
• The Cabinet has agreed to address and upgrade the intersections of Fourth and Main and Fifth and Main to improve traffic flow.
• Covington will be given a role in the planning for the eventual traffic diversion.
• The state is paying for the city to have a resource engineer to represent the city's interest to advocate and to be an expert.
• The Cabinet has committed that the city will have a role through the construction process for at least the next five to seven years.
All wins. Again, Meyer emphasized approving the latest upgrades from KYTC.
"The agreement that we've got before us is an upgrade from the agreement that was signed — agreed to — by the city in 2012," Meyer said. "The state did not have to change any of this. Some of us have been fighting against the Brent Spence Bridge since 2015. We have spent eight years of our lives fighting against the bridge. The Commission has taken stands against the bridge in 2017 and again in 2018 and we opposed both the funding source and the project itself … we opposed because it was too big. It was overbuilt and it was too damaging to the city, so I can tell you that there are no arguments that people against the bridge can make that we haven't made in the past eight years. But the city took on a fight that nobody thought we could win — but somehow, we did."
It is all about compromise, he said.
"We've won these concessions and improvements because we've remained engaged in the process with mutual respect and a spirit of compromise," he said. "So, when you look at this agreement in the context of all this — and within the context of the rules that are available to us — this is a very good agreement for us. I don't think anybody could have done a better job than our staff in winning these concessions and improvements for us, so I encourage the Commission to go ahead and approve this contract, with the reminder that there will be more of these contracts coming to us in the future and I think it's all in our interest to keep the lines of communication and work open."
Nicaise asked one more question.
"I just want to say that I really appreciate all of your efforts and all of those big wins that are going to really help out the people of Covington — so I appreciate that, thank you," he said. "Do you feel that all effort possible has been made to give us the best deal on this Minimis?"
"No question, in my mind, that we've done our very best," Meyer responded.
After a unanimous vote, the order was adopted.
Audit 2022
Commissioners heard results of a 2022 audit by RFH LLC, which included three items of "significant deficiencies" in internal control, including:
• Audit adjustments. Officials recommended the city utilize different approaches to internal auditing so, essentially, RFH doesn't have to keep doing this every year.
• Credit card control. It was recommended that the city make sure those who have their own credit cards first review their own statements.
• Accounting software. It was recommended that the city designate certain duties so that no one person has majority control of the software.
Short-term rentals
Commissioners heard the first reading to amend the city's ordinance on short-term rentals to include a one-year prohibition on any operator of a short-term rental without a license from applying for a license for one year.
"The city is experiencing a glut of unlicensed short-term rentals operating in certain areas of the city," Covington documents read. "This addition to the short-term rental ordinance would prohibit an operator of a short-term rental from applying for a license for one year from the date they are notified that they are operating without a license … this is an addition to the 'Penalties' section of the Short-Term Rental Ordinance and leaves the remainder of the Ordinance unchanged."
Commissioners plan to hear a second reading and vote on the amended ordinance in two weeks.
12th Street Gateway
Commissioners agreed to improve a gateway to the city, utilizing Emersion Design LLC to provide design and construction oversight services for $24,300, at the location at the 12th Street Bridge.
"In 2019, the city's Economic Development Department hired Garner Economics to complete a strategic plan," city records report. "One of the recommendations was to improve gateways into the city, including new signage, landscaping, and beautification initiatives."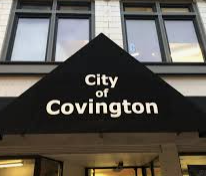 The city's Economic Development staff has talked with the community to decide which gateways are "most critical," and two were prioritized, with the 12th Street Gateway /Bridge from Newport being one.
Emersion Design's submission was chosen as the winning bid. The design process will be completed within four months from the contract's effective Date. The fee for the projects is being paid for with 50 percent general fund and 50 percent from the Economic Development Fund.

Economic Development
Commissioners approved rent subsidies, façade incentives and Quality of Place Grants for:
Honey Child Pops, Rent Subsidy: $4,716
Nichefire, Rent Subsidy: $6,000
Runion Capital LLC, Façade Incentive: $6,000
J Davis Law Firm PLLC, Façade Incentive: $6,000
909 Madison LLC, Façade Incentive: $6,000
Janet Creekmore, Quality of Place Grant: $25,000
Earth to Kentucky LLC, Quality of Place Grant: $15,000
Amy Milburn, Quality of Place Grant: $22,500
Center for Great Neighborhoods, Quality of Place Grant: $15,000
AlloyFX, Quality of Place Grant: $25,000
Morgan Daruwala, Quality of Place Grant: $20,000
CovCor, Quality of Place Grant: $10,000
Life Learning Center, Quality of Place Grant: $15,000
Samaritan Car Care Clinic Inc, Quality of Place Grant: $5,000
Ben Harrison, Quality of Place Grant: $5,500
Kenton County Public Library, Quality of Place Grant: $26,425
BLDG REFUGE LLC, Quality of Place Grant: $29,999


Reappointment
Commissioners approved the reappointments of:
Joe Schamer, Code Enforcement Hearing Board
Geraldine Slusher, Human Rights Commission


New Hires
Commissioners approved the hirings of:
Mark Antrobus, Solid Waste and Recycling Coordinator
Corey Zelensky, Police Officer
Matthew Clements, Police Officer
Stephanie Patrick, Clerk Typist
Mason Arnold, Police Cadet

Downing absent

Commissioner Tim Downing was absent Tuesday night.
Next Meeting
The next regularly scheduled Covington Commission meeting will be a caucus meeting held at 6 p.m., Feb. 21, at the City Building at 20 W. Pike St. in Covington. The meetings can be followed live on Fioptics channel 815, Spectrum channel 203, the Telecommunications Board of Northern Kentucky (TBNK) website, the TBNK Facebook page @TBNKonline, and the TBNK Roku channels.