By Tom Latek
Kentucky Today
The drop reported on Monday of new cases of COVID-19 in Kentucky, is also reflected in the latest COVID Community Level map released Friday afternoon by the Kentucky Department for Public Health.
The U.S. Centers for Disease Control and Prevention breaks the state down by each county, based on whether they have a high, medium or low community level of COVID; which are indicated on their map as either red, yellow, or green, respectively.
According to the Feb. 17 map, there are currently two counties, Elliott and Greenup, that are in the red. This compares to five counties that had a high community level last week, and 11 the week before. The number of yellow counties now stands at 27, down from 40 last week and 41 two weeks ago. The remaining 91 counties are green, indicating a low community level. That compares to 75 last week, and the previous week's 68 counties.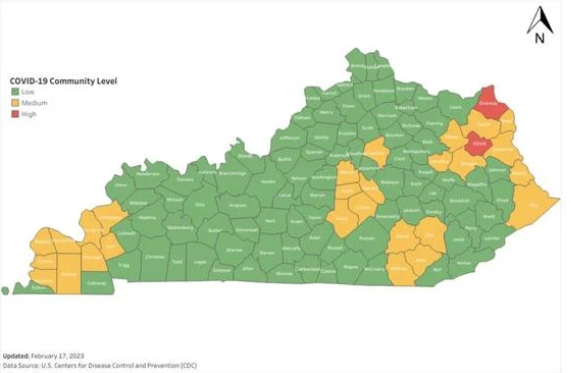 A lower number of new cases, more counties with a low community level, and a decline in the state's positivity rate are good signs, but COVID-related hospitalizations and deaths both saw an increase in Monday's latest weekly report, ending several weeks of lower figures.
Gov. Andy Beshear said, "We continue to recommend getting the new COVID booster. It will help, it has been working, but not enough people have gotten it. Remember, the national emergency will be expiring on May 11. That may mean that there are more or additional charges than what you are used to in different things like tests and treatments that people have been using to battle COVID-19."
 
He says they hope to get additional information soon on the impact of ending the emergency.
For more information on Kentucky's response to the COVID-19 pandemic, the CDC's community levels in the state by county, and more, go to http://kycovid19.ky.gov/.