By Patricia A. Scheyer
NKyTribune reporter
At the front of the Erlanger city building, just across the parking lot, is a lovely small garden filled with annual and perennial plants, as well as decorative bushes and small trees.
It is a restful, peaceful place to sit and have lunch, or just sit and think, but many people don't even know it is there.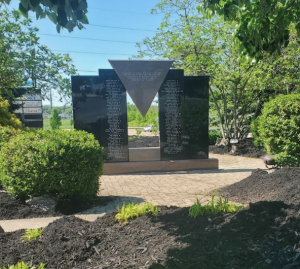 The garden was initially planted in 2003, as a subtle, continuing thank you to the people who have loved the city enough to make contributions to help Erlanger grow into the vibrant, easy-living city that it is.
Bill Martin was mentioned at the regular Erlanger council meeting last Tuesday as the latest name to be honored on the wall.
"We currently have about 281 names on the wall," said Erlanger City Clerk Sherry Hoffman. "Every month we like to take a name from the wall and highlight that person's contribution to the city."
The garden was a thought that came out of a brainstorming session with members of Erlanger government at the time as a way to honor those who have made a significant contribution to the city, living and dead. Former councilmember Patty Suedkamp thought it was a great idea and took it on as a project.
"I really think that it could have been Jack Scheben's idea," Suedkamp said. "This was back in 2001, probably, so it is hard to remember. It was a huge project, but I considered it a labor of love."
Suedkamp said it did take a few years to do all the work required to transform the small patch of ground beside the parking lot into a garden with landscaping that was pleasing to look at.
There was a committee of people who worked on the submission of names, and the accomplishments which accompanied the names, and that took a while to assimilate, since there were several names engraved on the monument for the Friendship Garden dedication on June 17, 2003.
Then there was the design of the monument, and the writing that was scheduled to go on that monument.
"Nancy Holian worked with me, and she told me, you know, you're going to make a mistake on the writing," Suedkamp remembered, laughing. "She said 'Every huge project we do has at least one mistake'. So I drove my team crazy, and we read it backward and forward, and then backward again. It was a lot of work, but we didn't have any mistakes!"
Anyone can suggest a name to be included on the wall, but there are criteria for the inclusion of a person's name. There are eleven specifications, including the number of years required for the employee or volunteer or elected official to have served the city, and if the person died in the line of duty their name would be preceded by a cross and their name would be automatically included on the wall.
Mayor Jessica Fette likes what the monument symbolizes.
"The Friendship Garden is a perfect way to show our appreciation and devotion to those that serve our community via public service," she said. "These dedicated individuals have built a strong foundation on which we continue to build each day."
So that no one will forget, every month Sherry Hoffman highlights someone whose name is on the wall. She reads their name at the council meeting, along with their accomplishments.
Suedkamp likes that the names are being honored.
"People in the city don't know what all the volunteers did, and how much money they saved the city," she stated. "There were over 100 firefighters, and every one of them were volunteers. When the life squad was formed, it was all volunteer. The monument and the Friendship Garden is meant to be a reminder, and a thank you to all those people who helped make Erlanger what it is today. I love the way it all turned out."
Her words, on the day of dedication, showed the appreciation that is behind the Friendship Garden.
"This is a day to open our eyes to the dedication of so many," she said, twenty years ago. "We are honored to have known them, as colleagues and friends. Their spirit lives within us; their talents never forgotten. We recognize the value and contributions of those who cared for our community in the past, and those with us today who continue their legacy with pride.
"Be happy today. Let's celebrate together. And may God smile on the Friendship Garden forever."