Just recently a Chicago area man whose legs were amputated in 2017 after a car lurched forward into a parking space, pinning him against the front of a 7-Eleven store, reached a $91 million nuclear verdict settlement earlier this month. that should get any convenient store or business with front parking's attention.
 
According to a press release regarding the case, "… after purchasing his morning coffee, the man was waiting for his ride to work while standing outside of a Village of Bensenville 7-Eleven. At that same time, a patron was attempting to park his vehicle in one of the storefront's forward-facing perpendicular parking spaces, directly in front of where Mr. C.E.G. was standing. As the patron attempted to bring his vehicle to a complete stop inside of the parking space, his foot accidentally pressed on the vehicle's accelerator, rather than its brake, causing it to quickly accelerate up over the curb, across the sidewalk, pinning Mr. C.E.G. against the 7-Eleven storefront. As a result of the crushing injuries caused by this impact, a bi-lateral, above the knee amputation of both Mr. C.E.G's legs was necessitated."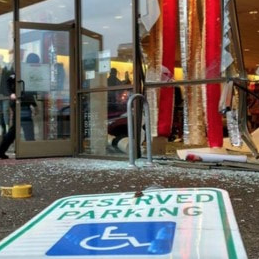 The driver later pleaded guilty to aggravated reckless driving.
During the discovery phase of the case, it revealed a disturbing trend – cars slamming into storefronts across the country with alarming regularity. In a previous article that I wrote titled "Storefront Vehicle Incursions Occur With Some Frequency But They can Be Prevented" I pointed out that these types of incidents are avoidable if businesses take the necessary precautions.
  
According to Co-Founder of Storefront Safety Council Rob Reiter, these incidents happen with a great deal of frequency, these types of crashes happen as often as 100 times a day throughout the year, and in convenient stores alone they are seeing up to  20 times every day. 
In the data that he has collected, out of the 30,000 accidents, 45% of them have at least one injury, and at least 8% have at least one fatality.
As for 7-Eleven storefront crashes they have experienced more than most convenient store operators, seeing an average of a little over 1 per day in the U.S., according to the Storefront Safety Council. "It doesn't have any particular factors making it more dangerous than its peers, but since 7-Eleven operates so many stores, "it's a numbers game" with them, Reiter said. Over 15 years, 6,253 cars crashed into 7-Eleven storefronts in the U.S. – an average of 1.14 per day.
Before this verdict was announced, the highest previous verdict that Rob had seen was a $20M wrongful death lawsuit with Cumberland Farms convenient stores. Jurors later found the retailer to be negligent and they should have previously installed barriers to prevent vehicles from colliding into its buildings.
One reason convenient stores are susceptible to storefront crashes is because of the traditional forecourt layout. Most stores have a limited number of parking spaces around the building, and cars usually park with their noses toward the stores. This has proven to be dangerous without proper barriers in place.
Consequently approaching vehicles are aimed at these convenient storefront doors or the front of the stores. It is suspected that the reason why there are so many incidents at convenient stores is actually in the word "convenient."
Convenience is what they cater to and what has allowed their industry to thrive and grove over the past few decades. Many drivers are in a hurry coming to and from work, kids' activities, appointments, meetings, events, …etc.; and often they are distracted with thoughts or conversation; and many are on their cell phones. These types of stores have a high "in and out" rate with people moving quickly.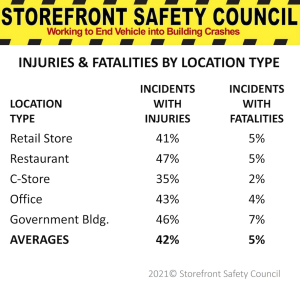 Therefore, it's not uncommon to see drivers hit the gas instead of the brake — or put the car in drive instead of reverse — and accelerate right into the store.
While convenient store retailers may try to paint warning signs to prevent cars from pulling too far into parking spaces, at the end of the day, the only step that can prevent storefront crashes is installing physical barriers separating those spots from the store, according to Rob Reiter.
Physical bollards manufacturers were first installed for security reasons throughout the country. Large department stores installed them at their front entrance primarily to prevent smash-and-grab type robberies. But they also are the solution to prevent storefront crashes and if you install bollards, you pretty much solve that problem and prevent these type of incidents.
The judge, in this case, said 7-Eleven had a duty to install those protective bollards in front of the Bensenville store. This should send a very strong message to any business that operates with front entrance parking that is not adequately protected.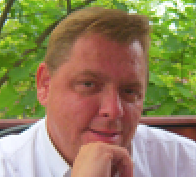 Keven Moore works in risk management services. He has a bachelor's degree from the University of Kentucky, a master's from Eastern Kentucky University and 25-plus years of experience in the safety and insurance profession. He is also an expert witness. He lives in Lexington with his family and works out of both Lexington and Northern Kentucky. Keven can be reached at kmoore@higusa.com
Imagine how many bollards 7-Eleven could have purchased with $91M for the estimated 9449 stores they operate? The average cost for one Bollard being installed is roughly $1,000 and that would be on average $15,000 or less per store.
As a risk management and safety professional that works with retailers and other businesses, this nuclear verdict of $91M should be a wake-up call to them. Social inflation is causing the rise of such cases and the amounts that we are seeing continue to grow and are starting to lead businesses into bankruptcy. Commercial insurance rates are increasing as a result of such verdicts, and I suspect after that commercial insurance underwriters are, or soon will begin to screen retailers to determine if they have the necessary controls in the front of their stores; and if not they will adjust their premiums accordingly.
To counter these recent trends, I always advise my clients to be proactive in controlling such exposures to best protect their guests, and that it's vital to adhere to and exceed safety standards. It's much harder to squeeze nuclear verdicts out of a business if you enforce all safety policies and are preemptive in identifying and controlling such exposures.
 
Be Safe My Friends