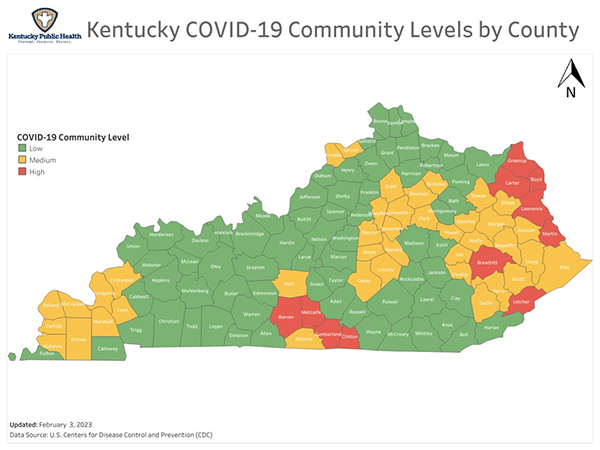 By Tom Latek
Kentucky Today
There was some encouraging news in the weekly COVID-19 report released by the Kentucky Department for Public Health, as all the metrics saw declines over the past seven days.
The Feb. 6 report says there were 5,665 new cases in the past week, which is 703 less than last week, although that is still above the 4,913 from two weeks ago. Those 18 and younger made up 1,037 of the new cases, a drop of 149 from a week ago, but above the 880 in the Jan. 23 report.
There have now been 1,698,146 confirmed cases of confirmed COVID-19 cases in Kentucky, since the first one was reported March 6, 2020, in Harrison County.
Four Kentucky counties reported over 100 new cases during the past week. They were Jefferson 710, Fayette 395, Warren 180, and Madison 109. Last week, five counties topped the century mark in new cases.
According to state public health officials, the number of positive cases is likely undercounted, since many people who have a positive result from a home test do not report it to their local health department if they do not require medical treatment or were asymptomatic.
More good news can be found regarding Kentucky's positivity rate, which is based on the number of tests other than those from unreported home kits. It has now fallen for five consecutive weeks, and currently stands at 9.93%. This compares to last week, when the positivity rate was 10.05%.
The hospital census also saw a drop in total patients for the fourth straight week. There are currently 286 patients hospitalized with COVID, a drop of eight from last week. In the latest report, 46 are in an intensive care unit, ten fewer than last week. The number of patients on a ventilator dropped by one from last week, and is now at 23.
The Feb. 6 report includes 49 new COVID-related deaths, which is down from last week's 52. The pandemic total in Kentucky now stands at 17,939.
For more details on Kentucky's response to the COVID-19 pandemic, the CDC's community levels in the state by county, and more, go to kycovid19.ky.gov.