Celebrating 32 years of bringing people to a party like no other, The Mardi Gras for Homeless Children event will take place from 6:30-10 p.m. on Tuesday, February 21, at the Northern Kentucky Convention Center.
Proceeds from the Mardi Gras event will benefit three area agencies that provide essential care to homeless women and children. Bethany House Services of Cincinnati, and Brighton Center's Homeward Bound and Welcome House, Inc. in Covington.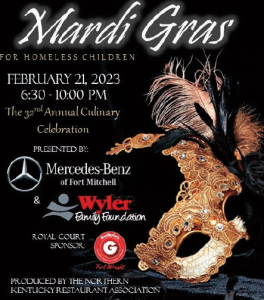 Together these agencies serve more than 40,000 needy individuals in our community each year.
"It is imperative that we as a region come together again to support this fundraiser, which has raised more than $2.35M for homeless children" said Pat O'Callaghan, Chairman of the event. "When we hear the Cincinnati ranks second in the nation for the number of homeless children, what more do we need to say about the importance of another successful Mardi Gras that has been known to feed so many of our area's homeless children throughout each year."
Mardi Gras features more than 50 booths of fantastic food and beverages furnished by the members of the Northern Kentucky Restaurant Association in partnership with sponsors Mercedes Benz of Fort Mitchell and The Wyler Family Foundation.
A highlight of the upcoming celebration is a Royal Court parade featuring Giovani Bernard, back by popular demand as the Grand Marshal, complete with Beechwood High School Marching band and a float. Live and silent auctions offer a remarkable selection of items at amazing savings. In addition, the event includes live music by Tickled Pink.
Why it all began
Thirty-three years ago, a tragic incident occurred in Cincinnati that touched the hearts of our residents. Four homeless children were living in an abandoned garage and were locked in when their father left them alone. A fire broke out in the garage, and, unable to escape, all four children perished. Realizing children are not always visible behind homeless adults, the Northern Kentucky Restaurant Association wanted to help. So, Mardi Gras for Homeless Children was born.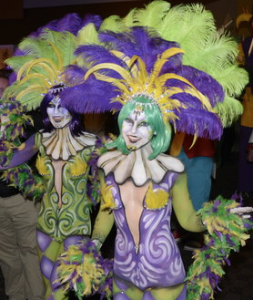 Today, Homeless Children continues to be a major challenge in our community. Desperate area children in Northern Kentucky and Cincinnati have benefited immensely from the actions of so many who have volunteered, donated, and attended in support of this annual event that can feed so many local children for an entire year.
"The Mardi Gras for Homeless Children event is truly making a huge impact for its community," said Don Paparella, Managing Partner for Mercedes-Benz of Fort Mitchell. "We appreciate all the local businesses and individuals that have supported this momentous cause over the years, and we encourage everyone to come join us for the Fat Tuesday, February 21st celebration."
The February 21 Fat Tuesday event at the Northern Kentucky Convention Center is from 6:30-10 p.m.
Purchase a VIP Ticket or Sponsorship for early entrance at 5:30 p.m.
Act fast as this popular annual event may sell out.
For more information on how you can help call 859-291-NKRA (6572) or check it out at www.mardigras2023.org.