By Dan Weber
NKyTribune sports reporter
Could this Northern Kentucky men's basketball team finish up its February-to-forget schedule with seven road games in the final eight, by winning three of its last four with a Saturday win over Oakland at the O-rena in Rochester, Mich.?
Maybe, said the 29-22 lead for NKU with five minutes left in the first half.
Maybe not, said a 16-0 Oakland run to end the first half, leaving NKU trailing, 38-29.
But then, if one team can go on a 16-0 run to close one half, maybe the other team could go on a 26-9 run to open the second half, which is exactly what NKU did. The Norse went from down nine to up by as many as 15 in the second half against an Oakland (13-18, 11-9 Horizon) team that had upset NKU at Truist earlier in the season.
NKU finished the regular season at 19-12 and 14-6 in the Horizon League, good for a tie for the No. 3 spot which will get the Norse a homecourt quarterfinal game Thursday at Truist Arena.
"Let's hope we get 5,000 there for the game," NKU Coach Darrin Horn said after his team's 78-69 win at Oakland. "We're playing as good as anybody in the league right now . . . that's because everybody is contributing, which is how we have to play."
Sam Vinson certainly came to play in this one, leading the Norse with 19 points. Marques Warrick added 14 points while Trey Robinson put up a dozen points with nine rebounds and five assists.< Senior Chris Brandon pulled down 11 rebounds with seven points before fouling out. For Brandon, it was his 16th time this season with double-digit rebounds, to give him a season total of 294. He trails NKU record-holder Drew McDonald by just 14 rebounds now.
Off the bench, grad student Trevon Faulkner scored 10, his 13th double-digit game this season and second on this trip.
NKU started the weekend off with a tough 67-64 win at Detroit Mercy Thursday, sweeping the Titans and guaranteeing the Norse a top-four spot in the Horizon League tournament and a first-round bye with a quarterfinal home game against a team to be determined by the results of the first-round games early this week.
It's the third straight season NKU has finished in the top four as it dropped Detroit Mercy to 13-17 (9-10 Horizon).
Warrick led NKU with a team-high 20 points, giving him an NKU Division I record 574 points (588 now) this season. Faulkner came off the bench for 13 points. Sophomore Vinson scored 11 points with five rebounds, five assists and two steals. Senior post-man Brandon, playing against his former team, pulled down a dozen rebounds.
For UDM, the NCAA's leading scorer Antoine Davis, in his pursuit of Pete Maravich's NCAA career scoring mark, hit his average of 27 points, leaving him more than 100 points short of Maravich.
TMU women lose again, host NAIA tourney next, Saints men on to MSC semis
There's a classic good news-bad news scenario for the No. 3 NAIA-ranked Thomas More women today. The good news is that the Saints have been awarded a first-round NAIA host spot for the national tournament March 7-8 at the Connor Convocation Center. The other three first-round invitees will be announced after the NAIA Selection Show Thursday at 7 p.m.
The bad news is that will be the next action for the 26-3 TMU women's basketball team that was upset in the Mid-South Conference quarterfinals by seventh-seed Shawnee State, 81-79, Friday in Bowling Green, Ky., their third loss in the season's final seven games after opening 22-0. The Ohio team had previously lost both its regular season games to TMU, most recently by an 81-54 score.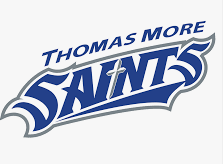 Trailing close most of the way, TMU just could not stop Shawnee State when the Saints had to. Courtney Hurst led TMU with 22 points while Zoie Barth added 14 with four rebounds and four assists. Alex Smith had 12 points while Rylee Turner led the Saints with six rebounds on top of six points and two assists.
TMU suffered through another sub-par shooting effort, hitting just 38.7 percent (24 of 62) from the field.
24th-ranked NAIA Saints men roll 79-58 over Lindsey Wilson: With the return of 6-foot-9 Noah Pack to the starting lineup after missing seven games with a foot injury, TMU put four players into double figures led by hot-shooting point guard Jacob Jones' 22. Jones was named Player of the Game. Pack had a team-high three assists with six points and six rebounds.
Reid Jolly and Wyatt Vieth each had 13 points with Jolly grabbing six rebounds, Vieth seven. Kyle Ross added 12 points and six rebounds for a Saints team that doubled-up Lindsey Wilson (11-18, 6-16 MSC) by halftime, leading 38-19.
Terrific shooting night for the Saints who hit on 53.8 of their field goal attempts (28 of 52), 50 percent from three-point range (six of 12) and a sizzling 94.4 percent from the line (17 of 18).
With the win, third-seeded Thomas More (22-7, 15-7 MSC) moves into Sunday's 8:30 p.m. semifinals against the second seed, NAIA No. 11 Freed Hardeman, a team that swept the regular season series with TMU.