Staff report
A group of determined law enforcement agencies — including the Boone County Sheriff's office and its Cold Case Unit — announced this week that they have solved the 1976 slaying of Carol Sue Klaber, a Kenton County teenager who was found brutally murdered in a roadside ditch on Chambers Road in Walton.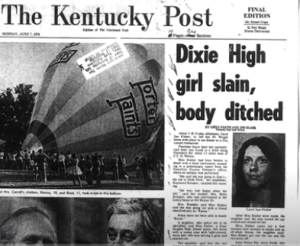 And the story is an amazing example of the determination and grit of law enforcement officials and the advances in DNA science and research that are right out of a made-for-TV movie.
The KSP started the investigation in 1976 and found that the victim died as a result of blunt force trauma, with evidence of strangulation and sexual assault.
KSP Detective Jerry Keith worked the investigation for nearly a decade before it went cold, according to the report from the Boone County Sheriff's office.
A Cold Case Unit was established in Boone County in 2017. It includes two detectives, Coy Cox and Tim Adams. They took up the murder investigation that year and learned that the suspect's DNA and fingerprints had been collected. They followed the trail which lead no where.
In September 2022, the Boone County Sheriff's office partnered with Othram Inc of Houston, TX., to determine if advanced forensic DNA could help establish the suspect's identity. With funding provided by Season of Justice, KSP Central Forensic Center send Othram a DNA extract developed from the crime scene.
Othram scientists used Forensic-Grade Genome Sequencing to build a comprehensive DNA profile and, using its in-house genealogy team, produced leads that were turned over to the Boone County Sheriff's office. From there, detectives were able to positivity identify the suspect.
In a press conference this week, the sheriff's department identified the suspect as Thomas W. Dunaway, originally of Park Hills, who was 19 years old at the time of Klaber's murder. The officials said Dunaway developed an extensive and violent criminal history over the years and died in 1990 at the age of 33.
The Cold Case Unit met with the Klaber family to notify them of the findings and Dunaway's DNA will be entered into the Combined DNA System (CODIS) for comparison against other unknown profiles.