For the second week in a row, the weekly COVID Community Levels data from the U.S. Centers for Disease Control and Prevention and the Kentucky Department for Public Health shows no counties with a high level.
The U.S. Centers for Disease Control and Prevention breaks the state down by each county based on whether they have a high, medium or low community level of COVID, which are indicated on their map as either red, yellow or green, respectively.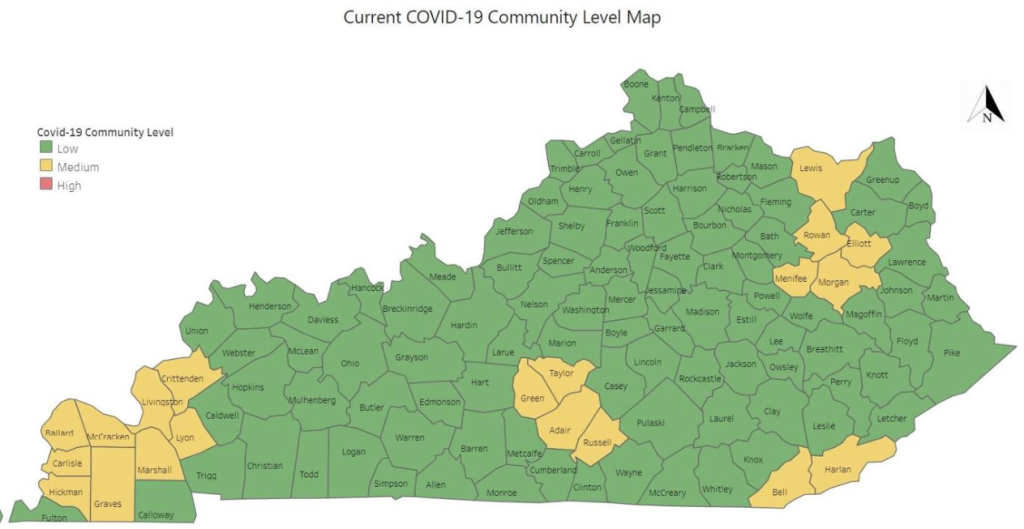 In addition to having no red counties, the March 10 report has 30 counties in yellow, indicating a medium level, the same as last week. As a result, the remaining 90 counties are still green, meaning a low community level. Check the map that accompanies this story to see how your county fared.
State Public Health Commissioner Dr. Steven Stack says while the federal COVID-19 public health emergency is set to end May 11, his office will continue to adapt its COVID-19 activities to support appropriate ongoing surveillance, information sharing and education.
The dedicated COVID-19 question hotline will end May 12, concurrent with the end of the federal public health emergency. The DPH has also standardized its COVID-19 dashboards to a single platform. The new version will be interactive and support additional pop-up information, while other metrics are no longer being tracked.
"COVID-19 is not over, but the formally declared public health emergency will soon end," said Stack. "Thank you, all Kentuckians, for your engagement, kindness and care for each other during this generation-defining, once-in-a-century pandemic. We have gotten through this, and we got through it together."
For more information on Kentucky's response to the COVID-19 pandemic, the CDC's community levels in the state by county and more, go to http://kycovid19.ky.gov/.