By Ryan Clark
NKyTribune reporter
Commissioners drafted and approved a resolution Tuesday night to accept $165,587.53 from a former employee who, according to city documents, "allegedly stole thousands of dollars from the city for her own personal use."
Just after the start of the Commission's regularly scheduled legislative meeting Tuesday night, the Board entered into an Executive Session for the purposes of discussing "pending litigation," Mayor Joseph U. Meyer said.
After about 10 minutes, the Board came back to their meeting, and the Mayor reported that no action had been taken. However, he then asked for a new resolution to be placed on the night's agenda, asking for the approval and acceptance of the check.
In September 2022, Allison Donaldson, the former administrative manager for Covington's public works department, was indicted by a federal grand jury on four counts of wire fraud and three counts of aggravated identity theft for allegedly using employee credit cards to make purchases for her and her home.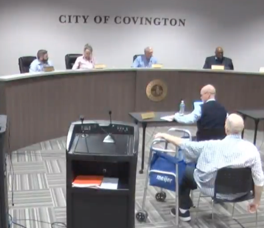 The accepted check represented $141,274.53 for the alleged stolen funds, as well as $24,313 for fees to RFH Consultants, a company hired to conduct an audit investigation.
"The Board of Commissioners accepts the payment," the city's resolution reads, "as restitution for the monetary damages (Donaldson) caused to the city of Covington and authorizes the city solicitor of the city of Covington to notify the relevant authorities prosecuting her criminal case that such monetary restitution has been offered, accepted and paid."
The money will be deposited into the city's general fund account.
Dan Hassert, the city's communications manager, said the amount of $141,274.53 was the number the city was able to document with certainty.
And when asked if this meant the city had softened its stance on the prosecution of Donaldson, Hassert did not mince words: "Absolutely not," he said.
Last year, just after confirming the discrepancies in the account, Mayor Meyer explained his views on the matter.
"This case is a fundamental breach of the public trust," he said. "It is a betrayal of the obligations of every employee and every elected official to the public that we serve. One of my principal goals as a candidate, it seems like many years ago, was to restore the public trust and we have been working hard to restore and maintain that trust through a whole variety of actions that we as a government collectively have taken … This situation is a major setback.
"The public is less likely to believe us when employees steal taxpayer dollars, no matter how small," he continued. "From the perspective of this entire Board of Commissioners, this will not be tolerated."
He did not stop there.
"Unfortunately, this is something that we are also angry about," he said. "All of the work that we as a body and so many honest, hardworking employees of the city have put in for the past several years has been wiped away through an act that words fail me to describe. It is appalling."
Donaldson faces up to 20 years in jail on each count of wire fraud, and up to two years, to run consecutively, on each count of aggravated identity theft.
Short-term rentals
Commissioners approved the city's much-talked about amendment on short-term rentals.
A month ago, Commissioners listened to more than a dozen residents who came out to voice their opinions on the amendment, which would include a one-year prohibition on any operator of a short-term rental without a license from applying for a license for one year. As expected, more residents came out Tuesday night, saying many of the same things.
"I can inform you that we anticipate that the public hearing will be held in about two weeks directly addressing, and giving all of you a chance to comment on short-term rental regulations and the changes," Mayor Meyer said. "So, week after next, sometime in that area we will have that short-term rental public hearing. It may not be here at this facility, pending on how many people we anticipate showing up, but we'll let everybody know where and when specifically."
Meyer also reminded everyone to sign up for the city's email newsletter and Facebook page.
"We sincerely encourage you to do that," he said. "That is, in today's communication environment, our strongest form of communication and it's the best way that you can keep up with the issues that are facing the city government."
The amendment passed with a 5-0 vote.
$55k in ARPA funds for Housing Authority
Commissioners apporoved a request for an order to execute a $55,000 ARPA (American Rescue Plan Act) agreement with the Housing Authority of Covington.
"These resources will be used to help a handful of city heights residents with past due utility expenses as part of the relocation of City Heights," Brandon Holmes, Neighborhood Services Director, said last week.
"Past due utility balances are hindering certain residents' ability to relocate from City Heights," city documents read. "The Housing Authority of Covington has coordinated with local utility providers and will make payments directly to utility providers on behalf of residents."

Façade grant
Commissioners approved an agreement with Winston Avenue LLC to facilitate the payment of an $87,410 forgivable façade incentive for the property located at 4101 Winston Ave.
The redevelopment is the adaptive reuse of the 193,000 square-foot, one-story former retail building located at 4101 Winston Ave. into packaging and warehouse operations, city documents say.
The building was originally occupied by Value City Furniture which was then bought by ReGadget/Blair Technology who planned to renovate the building, including the façade. But they determined they no longer needed the space for their operations, so they sold the property in June 2022 to the new owners.
The building has been sitting vacant or underutilized for several years, and the total project cost is about $11,479,641. (The total exterior improvements are $349,641).
Sidewalks
Commissioners approved the city manager to develop a plan to address the condition of sidewalks in the city.
The city manager will work with city staff to "evaluate the condition of the sidewalks, determine when sidewalks are in need of repair, and develop payment options for property owners for any necessary repair of the sidewalks," city documents read.
The results of the study and plan should be returned to the Commission by July 2023.
Poll workers
Commissioners approved an order allowing employees to serve as poll workers in Kenton County.
Two weeks ago, Mayor Meyer reported how the county clerk had sent an email asking cities to help recruit poll workers for the primary election.
"We had discussed this a couple of weeks ago, the possibility, and now that we've been asked officially to do it … I would like to ask us at least informally to approve the idea of allowing our city employees to serve as poll workers — except for the on-duty police and firefighters — replacement workers," he said last week. "Under this proposal, they would collect the normal city salary, plus then they would collect the compensation they get for working as a poll worker," Meyer said.
New hire
Commissioners approved a new hire — Lois Kugali, clerk typist.


Resignation
Commissioners approved the resignation of Police Officer James Elliott.
Next Meeting
The next regularly scheduled Covington Commission meeting will be a caucus meeting held at 6 p.m., April 4, at the City Building at 20 W. Pike St. in Covington. The meetings can be followed live on Fioptics channel 815, Spectrum channel 203, the Telecommunications Board of Northern Kentucky (TBNK) website, the TBNK Facebook page @TBNKonline, and the TBNK Roku channels.