By Ryan Clark
NKyTribune reporter
Covington Commissioners heard a proposal Tuesday night for the city to accept more than $2 million in federal grants toward helping the homeless (as well as those at risk of becoming homeless).
The money, which totals $2,044,421, comes from the HOME-ARP, a one-time supplemental allocation of HOME funds from the 2021 American Rescue Plan Act, and includes developing affordable rental housing, providing supportive services and utilizing homeless prevention programs in six cities that make up the Northern Kentucky HOME Consortium: Covington, Ludlow, Erlanger, Newport, Bellevue and Dayton.
"This is a little different from our typical home program," said Jeremy Wallace, the city's Federal Grants Manager. "This is more targeted to address the homelessness issue… We did a lot of consultation on this because we're not experts on the homeless population, so we consulted with about 15 agencies to get all the information to make some decisions on this."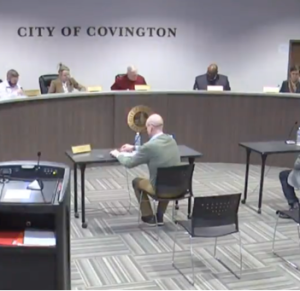 The city notes that "homeless prevention" may include, "shelter diversion programs, eviction diversion, housing and financial counseling, rent and utility assistance programs."
"Supportive services" may include, "case management, mental health, substance abuse, employment, housing navigation, transportation, childcare and other holistic services."
"All this plan does, basically, is outline an initial allotment of these funds into a couple different buckets," Wallace said. "The priority needs that that we've identified are: Affordable housing and supportive services."
He said the plans right now are wide open, and that after the funding is approved, the city can move forward, working with several agencies to determine how to best utilize the money.
"Today you're just approving us submitting the plan to HUD, which will formally reserve the funds for us," he said.
The city is still accepting comments on the plan.
Feedback on the plan will be accepted through the end of the day, March 26. Send comments to jwallace@covingtonky.gov or call (859) 292-2147.
$55k in ARPA funds for Housing Authority
Commissioners heard a request for an order to execute a $55,000 ARPA (American Rescue Plan Act) agreement with the Housing Authority of Covington.
"These resources will be used to help a handful of city heights residents with past due utility expenses as part of the relocation of City Heights," said Brandon Holmes, Neighborhood Services Director.
"Past due utility balances are hindering certain residents' ability to relocate from City Heights," city documents read. "The Housing Authority of Covington has coordinated with local utility providers and will make payments directly to utility providers on behalf of residents."
The proposal was placed on next week's regular agenda.
Façade grant
Commissioners heard an order authorizing an agreement with Winston Avenue LLC to facilitate the payment of an $87,410 forgivable façade incentive for the property located at 4101 Winston Ave.
The redevelopment is the adaptive reuse of the 193,000 square-foot, one-story former retail building located at 4101 Winston Ave. into packaging and warehouse operations, city documents say.
The building was originally occupied by Value City Furniture which was then bought by ReGadget/Blair Technology who planned to renovate the building, including the façade. But they determined they no longer needed the space for their operations, so they sold the property in June 2022 to the new owners.
The building has been sitting vacant or underutilized for several years, and the total project cost is about $11,479,641. (The total exterior improvements are $349,641).
The company is moving from another location in Covington in order to expand their operations. They have a current payroll of $2.8 million and plan on adding $1.2 million in payroll over the next three years, resulting in $88,200 in new payroll tax over three years and $204,036 in current payroll over three years. The return on investment to the city is $3.30 for every 1$ invested through this Forgivable Facade Loan.
The proposal was placed on next week's consent agenda.
Sidewalks
Last week, the topic of sidewalks was discussed, and Tuesday, Commissioners heard a proposal directing the city manager to develop a plan to address the condition of sidewalks in the city.
The city manager will work with city staff to "evaluate the condition of the sidewalks, determine when sidewalks are in need of repair, and develop payment options for property owners for any necessary repair of the sidewalks," city documents read.
The results of the study and plan should be returned to the Commission by July 2023.
The proposal was placed on next week's consent agenda.
Poll workers
Last week, Mayor Joseph U. Meyer reported how the county clerk had sent an email to Mayors asking that the cities help recruit poll workers for the primary election.
"We had discussed this a couple of weeks ago, the possibility, and now that we've been asked officially to do it … I would like to ask us at least informally to approve the idea of allowing our city employees to serve as poll workers — except for the on-duty police and firefighters — replacement workers," he said last week.
He then asked the city manager to send out an email to employees asking if they are interested in submitting their name for consideration.
"Under this proposal, they would collect the normal city salary, plus then they would collect the compensation they get for working as a poll worker," Meyer said.
Smith came back this week with the draft of an order allowing city employees to serve as poll workers in Kenton County. Twelve staffers have already signed up, showing interest.
The order was placed on next week's consent agenda.

Short-term rentals
The commission will have a second reading and vote on the city's much-talked about amendment on short-term rentals at next week's legislative meeting.
Three weeks ago, Commissioners listened to more than a dozen residents who came out to voice their opinions on the amendment, which would include a one-year prohibition on any operator of a short-term rental without a license from applying for a license for one year.
But Commissioners decided to pass the issue over due to "changes" that needed to be made, according to the city's legal department. Then, after the changes were applied, it was the city commission's opinion that it had become a completely new amendment, one that would have to go through the legislative process again.
So, it has. Last week, it got its new first reading.
Next week will be its second reading, followed by a vote.
New hire
Commissioners heard a proposal for a new hire — Lois Kugali, clerk typist.

The proposal was placed on next week's consent agenda.
Resignation
Commissioners heard a proposed resignation of Police Officer James Elliott.
The proposal was placed on next week's consent agenda.
Next Meeting
The next regularly scheduled Covington Commission meeting will be a legislative meeting held at 6 p.m., March 28, at the City Building at 20 W. Pike St. in Covington. The meetings can be followed live on Fioptics channel 815, Spectrum channel 203, the Telecommunications Board of Northern Kentucky (TBNK) website, the TBNK Facebook page @TBNKonline, and the TBNK Roku channels.