The Cincinnati/Northern Kentucky International Airport (CVG) is prepared for a busy Spring Break travel season. The airport experienced year-over-year growth in 2022 and is expecting approximately 1.2 million passengers throughout March and April.
Busiest dates/times:
• Spring Break season is now through mid to late April
• Busiest days of the week for travel are Thursday-Monday
• Busiest time for departures: 5-7:00 a.m.
• Busiest time for arrivals: 5-11:00 p.m.
"This year is a going to be a busy and exciting time at CVG, and Spring Break season is no exception," said Candace McGraw, chief executive officer, CVG. "Last year, we served 21% more travelers than the year prior. As we welcome two new airlines, launch new routes, and open new food and drink options this year, we are preparing for more traffic."
Most popular destinations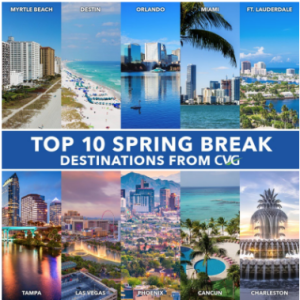 To no surprise, travelers are ready to escape the cold for spring break. Below are the top 10 destinations from CVG:
• Cancun
• Charleston
• Destin
• Ft. Lauderdale
• Las Vegas
• Miami
• Myrtle Beach
• Orlando
• Phoenix
• Tampa
Travel Tips
Arriving at airport
• Arrive at least two hours before your scheduled departure for a domestic flight and three hours early for international travel.
• Check in to your flight in advance by downloading your airline app or visiting your airline's website.
• Visit CVGairport.com to view parking options and security wait times.
• Check traffic before you leave for the airport.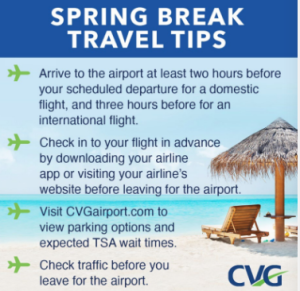 Parking at airport
• Travelers can park at the CVG Terminal Garage, ValuPark, Economy Lot, or Valet service.
• Please wait in the Cell Phone Lot if you're picking up an arriving passenger.
New this Year
• CVG has partnered with Bags Inc. to offer a timesaving baggage check-in service. United or American customers can find one of two Bags Inc. locations in Ground Transport West, either on the first or third floor, to check in for their flight as well as check bags. This service is especially convenient for those passengers short on time. It allows you to skip having to go to the airline ticket counter and head immediately to the security checkpoint and your gate. The service is $3 per bag and is available up to 60 minutes before departure.
• Breeze Airways launched flights to Charleston and San Francisco last month. The airline is launching nonstop flights to Orange County, California, and Providence, Rhode Island, during Spring Break on March 30 with service to Richmond, Virginia, beginning later this year. As a reminder, British Airways will launch nonstop service from CVG to London and beyond on June 5.