All are welcome to kick off the St. Patrick's season with the Fenians' St. Patrick Mass, 6:30 p.m. Thursday, March 9, at St. Mary's Cathedral Basilica of the Assumption, Covington.
For the 31st time, the Fenians of Northern Kentucky are sponsoring the Mass to honor the saint and to honor the heritage.
Mass will be celebrated by Very Rev. Ryan Maher.
The Friendly Sons of St. Patrick Glee Club will perform, along with the Emerald Society Pipe & Drum Corps.
All are also invited to an after-Mass celebration at Molly Malone's Irish Pub, second floor, Fourth and Court Streets in Covington.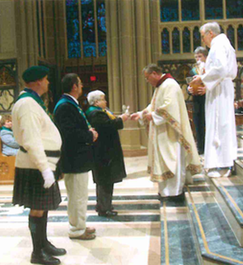 This is a unifying event for both sides of the river, and we are proud to kick off a long chain of other St. Patrick's events. It reminds of the best aspects of this time of year.
Also expected to participate in the Mass will be members of the St. Patrick's Division Hibernians, as well as the Ladies Ancient Order of Hibernians, Our Lady of Knock Division.
The Fenians of Northern Kentucky is open to people of all faiths and all genders.
The group exists to promote "all good things Irish." — music, dance, literature, genealogy, theater, sports, architecture, and student exchange programs.