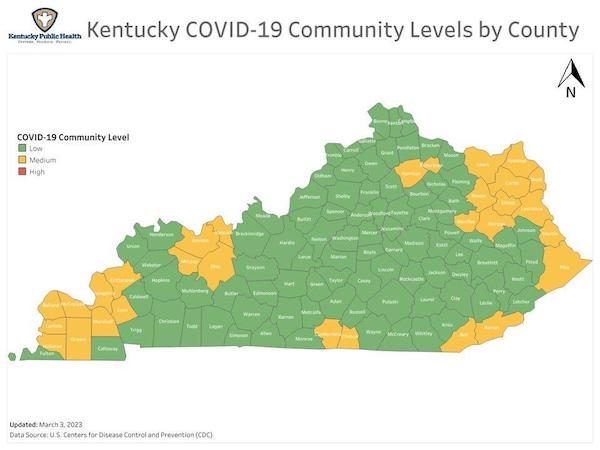 By Tom Latek
Kentucky Today
For the first time in about ten months the weekly COVID Community Levels map, issued last week by the Kentucky Department for Public Health and based on data from the U.S. Centers for Disease Control and Prevention, showed no counties at a high level.
The U.S. Centers for Disease Control and Prevention breaks the state down by each county, based on whether they have a high, medium or low community level of COVID, which are indicated on their map as either red, yellow or green, respectively.
Last week there were four red counties, two weeks ago only two, while three weeks ago Kentucky had five. This is the first time since May of 2022 there are no red counties in the state.
The March 3 report indicates there are currently 30 yellow counties, meaning a medium level. That compares with 34 last week, 29 two weeks ago and 40 three weeks ago.
The remaining 90 counties are all green, showing a low community level. Last week, there were 82, two weeks 91 and three weeks ago 75.
See the map that accompanies this story to see how your county fared.
This report goes along with the latest weekly COVID-19 data released by the Kentucky Department of Health on Monday, where new cases, deaths, the positivity rate, overall hospitalizations and other metrics all saw declines from the previous week.
The federal government has announced that they plan to end the COVID-19 Public Health Emergency on May 11. The CDC says that when that happens some of the data that had been published daily during the height of the pandemic and now published weekly will become reported even less frequently. They have not yet determined what that frequency will be, and Kentucky public health officials are also waiting to see the changes.
For more information on Kentucky's response to the COVID-19 pandemic, the CDC's community levels in the state by county, and more, go to kycovid19.ky.gov.