Kentucky Today
Gov. Andy Beshear has directed flags at all state office buildings in Kentucky be lowered to half-staff until sunset on March 31, in honor and remembrance of the victims of the school shooting on Monday in Nashville, Tennessee.
The governor is also encouraging individuals, businesses and organizations throughout the state to join in this tribute.
This follows the issuance of a proclamation by the White House.  The text is as follows: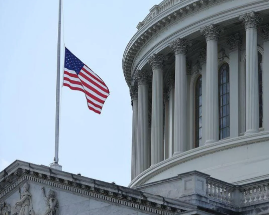 "By the authority vested in me as President of the United States by the Constitution and the laws of the United States of America, I hereby order that the flag of the United States shall be flown at half-staff at the White House and upon all public buildings and grounds, at all military posts and naval stations, and on all naval vessels of the Federal Government in the District of Columbia and throughout the United States and its Territories and possessions until sunset, March 31, 2023.  I also direct that the flag shall be flown at half-staff for the same length of time at all United States embassies, legations, consular offices, and other facilities abroad, including all military facilities and naval vessels and stations."
Six people were killed, including three students and three adults, at The Covenant School, a small, private Christian school on Monday, after a shooter opened fire inside the 200-student building.
Nashville Police say the incident took place over about 14 minutes and that the shooter was also killed. Police say that the alleged shooter, Audrey Hale, was a former student, but that it was unclear whether Hale had any current affiliation with the school or was related to anyone there at the time of the shooting.
Metropolitan Nashville Police Chief John Drake did not say exactly what drove the shooter to open fire at the school before being killed by police, but provided some examples of the shooter's elaborate planning for the targeted attack.
"We have a manifesto, we have some writings that we're going over that pertain to this date, the actual incident," he told reporters. "We have a map drawn out of how this was all going to take place."