Give Where You Live NKY giving circle members gathered to grant $5,000 to Northern Kentucky Children's Advocacy Center at their first quarterly, speed philanthropy meeting of the year.
Since Give Where Your Live's inception in 2019, nearly $100,000 in awards have been granted from the giving circle's members to Northern Kentucky nonprofits.
"The Northern Kentucky Children's Advocacy Center provides such critical services to our local children who have experienced child abuse," said Nancy Grayson, President and CEO of Horizon Community Funds. "We know this grant will help these youth heal and will provide them with an opportunity to achieve a healthy life."
"NKYCAC is extremely grateful to partner with Horizon Community Funds of Northern Kentucky as they are such a critical resource for nonprofits and our community," said Vickie Henderson, Executive Director of Northern Kentucky Children's Advocacy Center. "We were thrilled to be the recipient of the Give Where You Live NKY funding and thank those who made this opportunity possible! Many of the children whom NKYCAC serves come to discuss incredibly traumatic events. NKYCAC forensic interviewers have found that providing children with stress reducing toys like fidget spinners, pop its, stress balls, and items that are squishy and squeezy are very helpful in calming an anxious child. Depending on the situation and especially for emergencies children and families maybe at the center for several hours, for these situations we like to have fast food gift cards available to provide a meal. Some of our families experience transportation issues and need gas cards or transportation services. We have diminished our supply of stress relieving self-regulatory toys for children, gift cards for food and transportation, and child-sized medical exam gowns. In addition, NKYCAC needs a TV for our lobby for the children who are waiting to be interviewed. This funding has come at a perfect time and allows us the opportunity to purchase these items."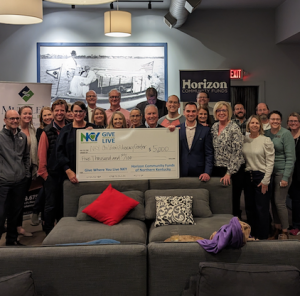 The NKYCAC, located in Florence, serves Northern Kentucky children under the age of 18 who are alleged victims or at risk of child sexual abuse, severe physical abuse, human trafficking, or children who have witnessed violent crimes. The NKYCAC works with law enforcement, the Cabinet for Health and Family Services, and prosecutors' offices to facilitate a comprehensive approach to child abuse cases. NKYCAC provides critical services including forensic interviews, mental health treatment, medical evaluation, family advocacy, and coordination of investigations by the Multidisciplinary Team.
"We had a wonderful turnout for our 2023 kickoff Give Where You Live NKY Meeting," said Woody Mueller, Financial Advisor at Mueller Financial, Inc. and Give Where You Live Advisory Board Member. "Seeing an organization like the Northern Kentucky Children's Advocacy Center win the funds is validation that our group can make a big impact."
Give Where You Live NKY is a joint initiative presented by Horizon Community Funds of Northern Kentucky and Mueller Financial, Inc., and its format lends itself to busy community members who are looking for an easy way to give back to nonprofits that serve Boone, Campbell, and Kenton counties.
At each quarterly meeting, participating members nominate a nonprofit of their choice, and three names are randomly selected and briefly discussed by the group. The members then vote on their favorite of the three organizations, and each member contributes $100 for the grant to the winning organization. This process takes place in under an hour, just four times per year.
The community can get involved by reaching out to Nancy Grayson at ngrayson@horizonfunds.org or 859.757.1552, or by visiting www.nkygives.org.