Staff report
In a surprise move last week, a proposal to ban "gray machines" — or "skills games" — was tabled in the House, on the motion of NKY's Rep. Steven Doan.
Doan has proposed another option — to regulate and tax the machines, but that proposal hasn't make any headway in the House.
House members approved the motion on House Bill 594 by a 42-35 vote.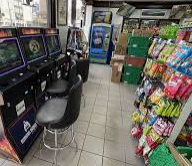 The machines resemble slot machines and involve cash payout games. They have proliferated in stores across Kentucky.
With two-thirds of the legislature's 30-day session completed, the future of the bill is up in the air.
A bill to banish the machines passed the House and Senate last year, but lawmakers didn't agree on an amended version before the legislative session ended.
The group, Kentuckians Against Illegal Gambling, urged the House to reconsider the proposed ban as soon as possible.
A statement attributed to Mark Guilfoyle, Executive Director of KAIG, said:
"We're extremely disappointed in Representative Doan and all members of the Kentucky House who voted to table House Bill 594. They just voted for the largest expansion of gambling in our state's history. The fight to ban gray machines and protect Kentucky families is far from over. We strongly encourage the House to reconsider HB 594 as soon as possible. Not passing HB 594 is a vote for the continued proliferation of untaxed, unregulated and dangerous illegal gambling across the Commonwealth."
The Kentucky Merchants and Amusement Coalition, which supports keeping the games in the state, said the House made the "right choice."
The issue has been lobbied intensely by both sides.
"We're going to see mini casinos popping up on every street corner across Kentucky. These things are going to be woven into the fabric of everyday life," Guilfoyle said.
Opponents of the ban countered that such a move would hurt small businesses — including gas stations and bars — that offer the games to customers. They promoted the competing legislation that would regulate and tax the machines.
Opponents accuse the state's horse racing industry of wanting to banish the machines to gain a gambling monopoly. The racetracks have tapped into their own lucrative revenue source in Kentucky through historical horse racing machines.