By Keith Taylor
Kentucky Today
Kentucky needed a big game from its top player and got it in the opening round of the NCAA Tournament Friday night.
Senior forward Oscar Tshiebwe only scored eight points, but his 25 rebounds and two blocked shots helped pave the way to a 61-53 win over Providence in Greensboro, North Carolina. Kentucky, which suffered an opening-round upset loss to Saint Peter's last year, advances to the third round and will take on the winner of the Montana-Kansas State encounter Sunday in Greensboro.
Tshiebwe did his part to make sure Kentucky didn't suffer the same fate it encountered a year ago in Indianapolis.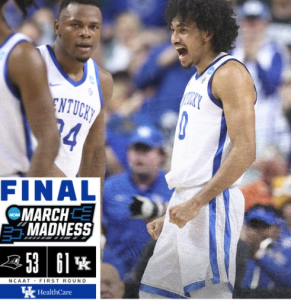 "I told all my teammates, I told them, I said this year we come in and fight," Tshiebwe said. "Last year doesn't matter anymore. Now you know this tournament is about fighting. It's about who fights the most. That's the one who is going to keep moving. We came in with the mentality, and we forget the past, and we're just fighting right now."
Tshiebwe pulled down 14 defensive rebounds and 11 on the offensive end and limited the Friars to just two second-chance points. Tshiebwe's final numbers on the glass were the most in an NCAA Tournament game since 1973 and helped lead the Wildcats to their first tournament win in four years.
"This is joy," Kentucky coach John Calipari said. "You winning this tournament, it doesn't matter how you win. There are teams that have gotten knocked out. You just keep playing and have joy and enjoy."
Providence forward Ed Croswell was even impressed by Tshiebwe's performance.
"He is a world class rebounder," he said. "You know, you have to box that guy out. Two, three people. You know, he really displayed his dominance on the board today."
Antonio Reeves knocked down five 3-pointers and led the Wildcats (22-11) with 22 points, followed by Jacob Toppin with 18.
Toppin said winning the tournament opener was a "big relief."
"We all stuck together," Toppin said. "Even when they made their runs, we didn't put our heads down. We kept fighting. Defensively, Oscar had 25 rebounds. That's insane. But, you know, we did the little things that won us the game."
All five of Calipari's starters played 32 minutes or more and senior guard Sahvir Wheeler sat out his 10th straight game while nursing an injured ankle.
On a day when top-seeded Purdue lost to Fairleigh Dickinson, the Wildcats are one of 32 teams still playing in the prestigious event.
"I've been telling these guys, you don't watch the games," Calipari said. "If you think you're going to be playing somebody, they're going to get knocked off. That's how this works. We can write our own story. We didn't know that. Did you guys know that? None of us knew that.
"We're not watching games. We're focused on us and enjoying this moment. Thank you for letting us know, though, they got beat. I didn't know. I feel bad. Matt Painter is a terrific guy, and I know what you go through with that kind of stuff."
Former Kentucky forward Bryce Hopkins scored seven points and grabbed seven rebounds against his ex-teammates. Croswell paced the Friars (21-12) with 16 points, followed by Devin Carter with 10.