Community members, elected officials, and representatives from regional organizations gathered at Turfway Park Racing & Gaming for the meetNKY/Northern Kentucky Convention and Visitors Bureau's 2023 Annual Meeting this week.
In remarks delivered at the event, Julie Kirkpatrick, meetNKY CEO and President, said that while business travel hasn't fully recovered from pre-pandemic levels, it did rebound to about the 90th percentile compared to 2019.
meetNKY's theme for this year's meeting was "Winner's Circle," which both reflected the location for the gathering, and the significant strides the region's tourism industry saw in 2022 as it emerged from the pandemic.
"In 2022, leisure travel and people making the decision to come visit Northern Kentucky and the Cincinnati region has never been stronger," Kirkpatrick said. "We're excited about the possibilities now that things are finally returning to normal in a post pandemic world."
That excitement can be seen in the growth in tourism related areas the region. meetNKY reports the hotel community and their revenues grew 19.4% in 2022 compared to 2021. Those hotels also saw occupancy rates of 67.5%, an increase of 4.6% last year. The Cincinnati/Northern Kentucky International Airport saw a 21% growth in passengers in 2022 over the prior year, a close return to 2019 passenger levels.
meetNKY board chair and president and CEO of the Salyers Group, Guy van Rooyen, added that Northern Kentucky regional tourism ranked second highest in economic impact in the Commonwealth.
van Rooyen added that in 2023, meetNKY is conducting a study of enhancements of the Northern Kentucky Convention Center.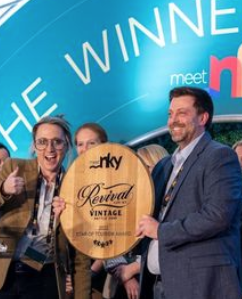 City of Florence Mayor, Julie Metzger Aubuchon; Visit Cincy President and CEO, Julie Calvert; and Kentucky Department of Tourism Chief of Staff, Mona Lewis Juett joined van Rooyen and Kirkpatrick in delivering positive praise regarding the strength of Northern Kentucky tourism and the impact it has on the region and Commonwealth during the annual meeting.
Kirkpatrick was also very excited to report that Northern Kentucky regional bourbon distilleries experienced an 11% growth in visits in 2022. She added that the Kentucky Distillers Association recently reported that 2 million people visited Kentucky distilleries last year.
"Bourbon is on fire and that momentum is going to keep going, so it was a great year," Kirkpatrick said.
To that end, meetNKY named Revival Vintage Spirits & Bottle Shop in Covington its 2022 Star of Tourism award. While accepting the award, Revival co-founders Shannon Smith and Brad Bonds shared that in 2023, Revival looks forward to moving Revival from its 600-foot space at 5 East 8th Street to a nearly 6,000-foot space at 614 Madison Ave. in Covington.
"We wouldn't have seen such exceptional growth without the meetNKY team," Smith said.
Kirkpatrick spotlighted upcoming additions for travelers departing and visitors arriving to CVG: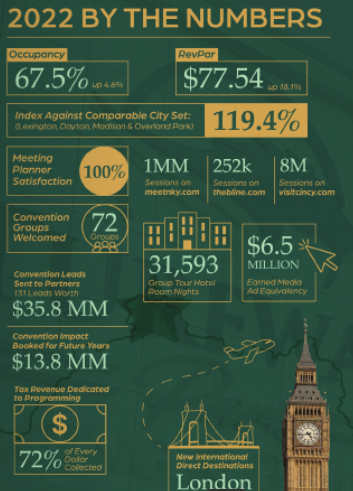 • Breeze Airways started offering discounted services to destinations like Charleston, S.C.; San Francisco and Orange County, Calif.; and Providence, R.I. in February. The airline will start offering flights to Richmond, Va. and Jacksonville, Fla. in May.
• British Airways will also launch a direct flight from CVG to London-Heathrow Airport starting June 5, 2023. Kirkpatrick noted that flight will result in an estimated $57 million annual economic impact on the region.
Other 2023 highlights mentioned during the annual meeting include the following:
• The upcoming Jeff Ruby Steaks, a precursor to the Kentucky Derby taking place at Turfway Park on March 25.
• The Ark Encounter and the Creation Museum will host their 40 Days and 40 Nights of Music in August.
• The Cincinnati Music Festival offering one of its strongest lineups returning to Paul Brown Stadium in July.
• A robust convention schedule at the Northern Kentucky Convention Center.
And four hotels scheduled to open in Northern Kentucky:
• North by Hotel Covington;
• Homewood Suites in Newport at Ovation;
• Hilton Garden Inn in Florence;
• Candlewood Suites opening beside Atlas Air in Erlanger.
Kirkpatrick said the hotels are especially good signs that tourism and visitor demands are strong and growing in the region. She hopes that translates into more people not only visiting but moving to the region.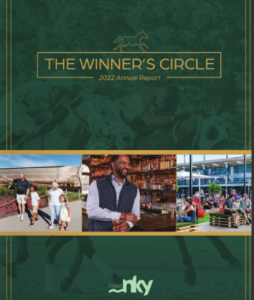 "This is part of the reason why meetNKY works so closely with the Northern Kentucky Chamber, BE NKY and other organizations committed to bringing opportunities to the region," she said. "Hopefully, we are the warm, welcoming handshake that greats visitors and gets them to come back."
Additionally Kirkpatrick added the region received notable national coverage from the New York Times, Forbes, and Condé Nast Traveler, in terms of being a visitor destination in 2022.
Finally, Kirkpatrick stated meetNKY will continue to implement strategies to promote the region as a destination through a strong marketing plan focused on outdoor opportunities in surrounding counties and cities. That plan also includes escorted tour visits from international markets that position Northern Kentucky as a destination and focus on attracting new conventions and events to the Northern Kentucky Convention Center.
A copy of the 2023 Annual Meeting report with numbers and details can be found here. To learn more about meetNKY, visit meetnky.com/.