Get ready to head out to Milestones Inc. "Photos at the Farm" fundraiser Sunday, March 25 for a day of family fun on the farm.
The event will be held from 1:30–3:30 p.m. at the Milestone's barn, located at 12372 Riggs Road in Independence. The fee to participate is $25 for a group of up to six individuals and includes a goodie bag for kids under 13 and a tour of the main barn featuring therapeutic horses Champ, Dath, Leo, Joe, and Odie. Participants will also receive one 5×7 group photo delivered via mail before Easter.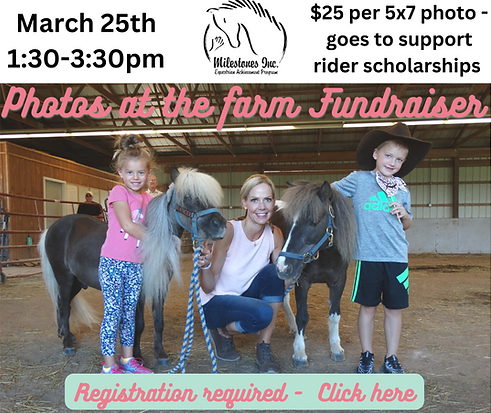 Milestones Equestrian Achievement Program is a non-profit therapeutic horseback riding program for individuals with disabilities and seniors.
Rachel Breeden, assistant director of the Milestones Equestrian Achievement Program, said fundraisers like "Photos at the Farm" are one way to introduce the community to Milestones' work while helping to raise funds to support therapeutic rider scholarships.
"Milestones is in a unique position to be able to provide a service that is needed by so many children, teens, and adults with challenges," said Breeden. "Sitting on a horse helps improve balance and build core strength and cognitive awareness. Plus, we select horses with specific skills and personality that matches the needs of each rider. We offer this service at a nominal rate because we know how important it is to the development of the families who need it."
Photo sessions are scheduled every two minutes, starting at 1:30 p.m. and can include up to six people per group. The last photo session is planned at 3:28 p.m. Guests are asked to arrive at least five minutes before their scheduled time slot.
To learn more about Milestone's therapeutic riding program, donate or register for "Photos at the Farm," visit milestonesinc.orgKenton County Public Library