By Andy Furman
NKyTribune reporter
Her passion for crafting will soon become a day-long fund-raiser at The Point/Arc's Zembrodt Education Center.
"I'm proud to say, yes, I am, a lifetime crafter," said Susan Carter who serves as an Instructor at The Point/Arc's Zembrodt Education Center. "And I'm a member of the ZEC team."
So it was Carter's brainstorm to form the First All-Seasons Craft Fair, set for Saturday, April 29 (noon-5 p.m.) at The ZEC (104 W. Pike Street).
"What I want to do," said the Ft. Mitchell resident, "is to get the community involved with ZEC's mission."
The Zembrodt Education Center (ZEC) was created to give people with intellectual and developmental disabilities(I/DD) opportunities to reach their highest potential educationally, residentially, socially and vocationally.
An extension of The Point/Arc, ZEC strives to increase growth and support for individuals and families in the Greater Cincinnati region.
Tables for crafters are available for $30, according to Carter.
"And crafters will receive all revenues from their sales," said Carter, a graduate of Eastern Kentucky University, "Patrons are asked to purchase a table and also donate one item to be raffled."
The tables are 10×10 feet, Carter said, and the cost is ten dollars for the table.
"The $30 is for the space," Carter reminds, "And the additional $10 is for the table. The entire event is benefiting ZEC," said Carter who received her MA in both Reading and Special Education at Northern Kentucky University.
The Point/Arc fills in the service gaps for individuals with intellectual and developmental disabilities from ages four to 80. The educational and employment program includes educational and employment programs: career exploration, pre-vocational skills, social communication and, team building.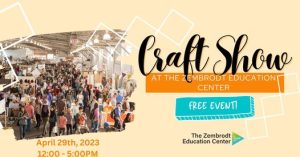 The ZEC Center allows The Point/Arc to add career exploration and team building classes.
"We strive to help all our individuals become contributing members of our community. With guidance and support, our individuals talents are reinforced while shaping their future and preparing them for a life filled with independence, pride and confidence as
they live their life and explore their dreams," said Judi Gerding, Founder and President of The Point/Arc.
"The Dr. Anthony and Geraldine Zembrodt Education Center allows us to continue on this mission and more than double the amount of individuals we currently serve."
The Point/Arc founded in 1972, celebrated its 50 th year of service in 2022.
And Susan Carter's crafting passion will help that mission.
Additional information on the All-Seasons Craft Fair may be obtained at: Zembrodt Education Center on Facebook or ZembrodtEducationCenter.com)