By Mark Maynard
Kentucky Today
Senate Bill 150 will become law after Republican-dominated lawmakers in the Senate and House both voted overwhelmingly to override Gov. Andy Beshear's veto Wednesday afternoon.
The Senate voted 29-8 to override the governor's veto and lawmakers in the House voted 76-23 to override the veto.
"Today's vote to override Gov. Beshear's veto of SB 150 is a win for children and their parents in Kentucky," said David Walls, executive director of The Family Foundation in Kentucky. "SB 150 will protect the lives of Kentucky children by setting policy in alignment with the truth that every child is created as a male or female and deserves to be loved, treated with dignity, and accepted for who they really.
"Kentuckians overwhelmingly support SB 150's commonsense student privacy protections in restrooms and locker rooms, along with the right of parents to have a say in their child's education. The off-label use of puberty blockers, along with cross-sex hormones and surgery, in experimental gender 'transitions' has no place in children's healthcare – the irreversible harms that de-transitioners have suffered testify to that."
The measure bans gender-affirming care for minors. It would outlaw gender reassignment surgery for anyone under 18, as well as the use of puberty blockers and hormones, and inpatient and outpatient gender-affirming hospital services. It also will not allow schools to discuss sexual orientation or gender identity with students of any age. It would require school districts to devise bathroom policies that "at a minimum" would not allow transgender children to use the bathroom aligned with their gender identities.
Also, it says that teachers can refuse to refer to transgender students by the pronouns they use.
Barring any court injunctions, the law will go into effect in late June 2023.
Legal challenges to block its implementation are expected. The ACLU of Kentucky already said as much in a statement shortly after both chambers returned with the override votes.
"To all the trans youth who may be affected by this legislation: we stand by you, and we will not stop fighting. You are cherished. You are loved. You belong," the statement said. "To the Commonwealth, we will see you in court."
Hundreds of people filled the Capitol grounds on both sides of the issue Wednesday.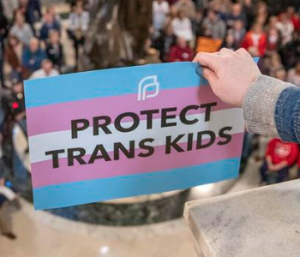 "Denying the truth that we are either male or female causes real harm to people, especially vulnerable children. Today, the Kentucky Legislature enacted vital protections for young children and parents to ensure they can't be pressured into agreeing to life-altering, so-called 'gender transition' procedures," said Matt Sharp of Alliance Defending Freedom.
"Young people deserve to live in a society that doesn't subject them to risky experiments to which they cannot effectively consent. That's why other countries — like Sweden, England, and Finland — are adopting policies that better protect children from the bad science that has already devastated countless lives.
"By overriding the governor's veto, the legislature also ensured Kentucky parents have greater access to the curriculum, policies, and information that affects their children. Public schools have no right to shut parents out of their child's education and development. This legislation makes clear that the government cannot interfere with parents' fundamental right to direct the education and upbringing of their children."
Rebecca Blankenship, Kentucky's first openly trans elected official and the Executive Director of Ban Conversion Therapy Kentucky, issued the following statement: "In their so-called attempt to protect children, this legislature has sentenced many to death. The LGBT community will work hard to care for one another through this crisis as we have through many before. In the end, we will survive, and we will prevail."
* * * *
(Editor's note: By the end of the day, the legislature — with a Republican supermajority — overrode all of Beshear's vetoes — including ones stopping automatic payroll deducation for some public employees unions or assocation dues, ending Medicaid dental, vision and hearing benefits, requiring confirmation of the Education commissioner by the Senate, legislative control of parking spaces at the Capitol, moving lawsuits challenging state laws and executive orders to "random" courtrooms across the state, allowing mining companies to receive permits to dump pollution into protected waterways, allowing the state treasurer to have final say on state government contracts, and several more.
Today the legislature turns its attention to unfinished business, including medical marijuana, sports gambling, governance of the KET, and eliminating the property tax on bourbon barrels.)