Senate Republican Leader Mitch McConnell's office released a statement saying he has been released from a Washington, D.C., area residential rehabilitation center and will work from his home for a few days.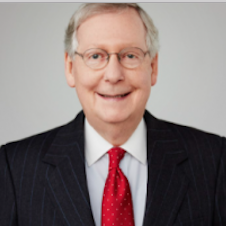 McConnell, 81, fell at the Waldorf Astoria Hotel on March 8 while attending a reception and was taken to an undisclosed Washington, D.C. hospital where he was treated for a rib fracture and a concussion.
He was released March 13 but was moved to an inpatient rehabilition facility for physical therapy.
"I am going to follow the advice of my physical therapists and spend the next few days working for Kentuckians and the Republican Conference from home," McConnell said in the statement. "I'm in frequent touch with my Senate colleagues and my staff. I look forward to returning the person to the Senate soon."
McConnell has served as Kentucky's senator since 1984 and became the longest-serving Senate leader this year.
The Senate will be on break April 3 through April 14.