By Ryan Clark
NKyTribune reporter
Covington commissioners heard a bond proposal and development agreement for an industrial building to be built behind the Latonia Commerce Center.
The Mayor was asked to execute an economic development agreement, a payment in lieu of taxes (PILOT) and associated industrial revenue bond (IRB) documents with Latonia Bulk, LLC, providing a 15-year IRB for the property at 135 W. 38th St.
"The land has sat vacant for many years and only generates a small amount of property tax in the amount of $15,000/year (all entities) and no payroll tax," city documents say. "The development team purchased the property in June 2021 with the intention to build a new 146,000 sq. ft. commercial industrial space. The development team is planning to build four separate leasable units ranging between 9,000-20,000 square feet unless they get a signed lease from a tenant who needs a bigger space."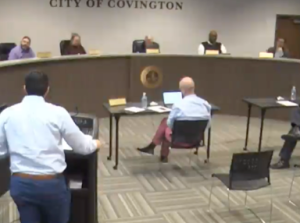 Presenting to the Commission at their regularly scheduled caucus meeting Tuesday night, Tom West, the city's Economic Development Director, said the building also includes 100-plus on-site parking spaces. And while there are currently no signed LOIs/leases, which makes the number of possible jobs unknown, there is the potential of at least 110 new jobs averaging $50,000/year if the developer reaches the payroll benchmark of $5.5 million.
"You all are very well aware we don't have a lot of industrial land that hasn't already been developed," West said. "What we wanted to do was to try to develop an incentive with (the builder) that would encourage him to attract businesses to this site once he built it that would actually have jobs in it for people."
"In Kentucky we can't do tax abatement but we can do this, where we trade off the property tax for the payroll tax," West explained. "The way this works is that the percentage of the property tax he would normally pay goes down as the payroll he generates on that site goes up."
The proposal was placed on next week's regular agenda.
Opioid settlement second phase
In July 2021, the Attorney General of Kentucky entered into a multi-state settlement involving three of the nation's biggest opioid distributors and a major manufacturer which secured $478 million in funding to be distributed at the state and local levels for opioid abatement, city documents say.
The City of Covington opted into that settlement in November of 2021. Since then, the Attorney General has entered into an additional five settlements with Teva, Allergan, CVS, Walgreens, and Walmart totaling about $364 million dollars to be used for the same purpose.
Commissioners heard a request for an order to authorize the Mayor to enter into the proposed national opioid settlements with Teva, Allergan, CVS, Walgreens, and Walmart.
The request was placed on the consent agenda for next Tuesday's legislative meeting.
ARPA funding updates
Casey Barach, the city's manager of American Rescue Plan Act (ARPA) funding, gave a presentation Tuesday night updating the city's use of the almost $36 million that Covington received to help local fiscal recovery.
The money was divided into 32 projects, Barach explained, before examining what he called the "highlights" so far.
"It's a lot of money to implement," he said. "I think the city has done a fantastic job."
Some of the projects:
• A mortgage assistance program has helped 34 families with down payments or closing costs.
• The city has helped relocate families out of the City Heights Neighborhood.
• The city has improved its IT and cybersecurity.
• The city is working on building a new City Hall.
• Ten city staffers are working on improving their Spanish skills to better interact with constituents.
• A program is helping people learn to refurbish homes — by actually refurbishing city homes with hands-on training.
• A property reinvestment program is currently helping up to 23 properties where owners have been behind in their payments.
• Ten children's basketball and volleyball teams were created, along with soccer and other recreational additions.
• Read Ready Covington keeps growing.
Disc golf course vandalization
During Commissioner Comments, Commissioner Ron Washington brought up the troubling topic of more vandalization at the city's disc golf course.
"This weekend, once again, our city was victimized at the disc golf course," he said. "There's been a lot of volunteer hours and a lot of money put into this project and this is the third time that it's been vandalized."
He noted the total cost for the problems added up to at least $14,000.
"I'm also disappointed that there hasn't been cameras placed at the disc golf course to catch the perpetrators involved," he said. "This is a this is a black eye for our city. I don't know the motive of the suspect or suspects that are doing this, but I implore our Police Department to find these people and to bring them in. If it helps, I'll personally offer a reward to get information on this."
The Commission agreed, and City Manager Ken Smith said he could talk more about the efforts being planned — but they he did not want to do so in the open forum.
"I can say 'Ditto,'" Mayor Joseph U. Meyer said. "I think we're all in favor of the cameras and other protective devices as quickly as possible."



Short-term rentals
Mayor Meyer mentioned that a public hearing will be held to collect opinions related to the city's regulation of short-term rentals from 6 p.m. to 7:30 p.m., Wednesday, April 12, at The Carnegie, 1028 Scott Blvd.
Anyone interested in speaking at the hearing will need to sign up after arriving. Speakers will be limited to three minutes.
The hearing will be held before the Covington Board of Commissioners, and a second public hearing will likely be held in the future.
Last week, Commissioners approved the city's much-talked about amendment on short-term rentals, which includes a one-year prohibition on any operator of a short-term rental without a license from applying for a license for one year.
TikTok
During an Information Technology update, Commissioner Washington asked IT Manager Essam Elgusain about his thoughts on TikTok.
Elgusain referred to the city's social media policy, but also made his own recommendation.
"So, we have a social media policy that instructs staff on how to use social media apps when they're working," Elgusain said. "TikTok is not one that I recommend to have in general. Just personally, I don't have (it) but as far as using it in any city capacity, we have blocked access to it.
"We leave it up to (the Commission) … I know some organizations use it for marketing or doing other sorts of activities, but as of now, we have it totally blocked," he continued. "Employees can't access it within the building here, or any city buildings because of the security concerns that our Congress has mentioned."
New hires
Commissioners heard the proposed new hires of:


Samantha Meredith, Police Officer
Joseph Richer, Police Officer
Daniel Dixon, Laborer 1, General Maintenance Division
Scott Hahn, Laborer 1, General Maintenance Division
Commissioners placed them all on next week's consent agenda.
Reappointments
Commissioners heard the proposed reappointments of:


Mike Dempsey, Devou Park Advisory Committee
Mike Lenihan, Occupational License Board of Appeals

Commissioners placed them on next week's consent agenda.
Resignations
Commissioners heard the proposed resignations of: 

Police Officer VI Specialist Jacob Noe
Fore Recruit Ryan Reder
Commissioners placed them on next week's consent agenda.
Next Meeting
The next regularly scheduled Covington Commission meeting will be a legislative meeting held at 6 p.m., April 11, at the City Building at 20 W. Pike St. in Covington. The meetings can be followed live on Fioptics channel 815, Spectrum channel 203, the Telecommunications Board of Northern Kentucky (TBNK) website, the TBNK Facebook page @TBNKonline, and the TBNK Roku channels.