By Steve Flairty
NKyTribune columnist
A trip down Richmond way last week brought me some uplifting information. If you or yours see the exciting possibility of becoming your family's first with a college degree but are overwhelmed by what it might take to achieve it, here is some good news to consider. Let's start with a short account of a young man named Chris.
Adopted by his maternal grandparents of humble means in Menifee County, Chris Prichard had some challenges to navigate as he thought about someday attending and maybe even graduating from college. But while in high school, he received help from Upward Bound, a federal program specifically designed to help first generation college students coming from low-income households to prepare themselves for college. And in 2008, he graduated from Morehead State University (MSU), a happy ending for sure.
And even better, today Chris is the director of Upward Bound (UB) at Eastern Kentucky University (EKU), which, according to its website, assists the population mentioned "through a program of engaging academic instruction, experienced-based college preparation, and enriching cultural exposure."
While a student in college, his plan had been to become a high school teacher, and though he knew he liked being with the students, he discovered later that he "wasn't real crazy about everything else" that classroom teachers were expected to do. So, after graduation from MSU, he explored another avenue whereby he could help high school students succeed yet avoid many of the regular teacher responsibilities. He looked at a familiar program that pulls high schoolers, so to speak, "off to the side" to give them specific assistance in going to college and performing well—Upward Bound, something of which he experienced as a high schooler himself.
"I showed up at the Upward Bound office at MSU and asked what I could do (there) with them," he said. They hired Chris part-time while he also attended graduate school at MSU. Later, MSU hired him full-time for the program in 2012. In 2018, he was hired to direct the UK Markey Cancer Center's Appalachian Career Training in Oncology (ACTION) program at the University of Kentucky College of Medicine, working with Dr. Nathan Vanderford. In his role, Chris designed and directed an Upward Bound-type outreach that would encourage Appalachian students to specifically pursue cancer-related medical careers.
Last fall, Chris accepted the position at EKU, where he oversees, with his staff, seven eastern Kentucky counties: Wolfe, Casey, Estill, Garrard, Jackson, Lee, and Powell.
For many families of the students at the schools — sophomores through seniors — going to college might seem "so far-fetched," said Chris. "They don't know what steps to get to college or there's no extra money to get there. We (at EKU) try to paint a very picture of 'How do I get from where I am to getting in a college of my choice and to be successful once I get there?'"
Eastern's Upward Bound outreach to the high schools works with the guidance counselors, encourages current UB students to talk to their classmates (including a student leadership group to do so), and for Chris and his staff members to find "anyway we can get in front of a group of students," such as school parent, student and teacher events.
The program is made up of these components and is free to students:
-UB staff members meet monthly at students' high schools for group sessions.
-Students come to EKU once monthly on a Saturday for academic session called Saturday Academy.
-Each student receives one "electric" contact per month from a UB staff member.
-Students attend Summer Chautauqua, a six-week summer residential program at the EKU campus. Instruction in basic academic courses plus electives are presented, with an enriching field trip taken at the end.
For those interested in Upward Bound in Kentucky but who are not in EKU's seven-county coverage, other colleges with UB programs include Pikeville, Western Kentucky, Morehead, Somerset Community, Bluegrass Community and Technical, Kentucky State, Murray State, Louisville, and Northern Kentucky.
Back to Eastern's UB, Chris Prichard emphasized that the UB program he directs is "very well-supported" by the EKU administration, enough that more recently, another program, Veterans Upward Bound (VUB), was initiated by the university that focuses on what EKU has already gained praise, which is its veteran-friendly climate.
There is excitement for the VUB program, directed by Holly Branscum. She explained that it is "funded to serve 125 veterans in this target area of Kentucky: Clay, Fayette, Knox, Laurel, Madison, McCreary, Rockcastle, Pulaski, and Whitley."
And she noted there are spots to fill in the new program.
"We are actively recruiting local veterans who wish to pursue college or a certificate program and can use some assistance," said Holly. "Our services include, but are not limited to, assistance with program applications, scholarship applications, and FAFSA help, exploring any military education benefits they may qualify for, connecting veterans to resources they may need to be successful. We are currently in the process of partnering with other local resources to help promote the program and recruiting/serving participants!"
For more information on either of the two UB programs at EKU, email Chris Prichard at Christopher.Prichard@eku.edu or holly.branscum@eku.edu. And if you are interested in connecting with other colleges in Kentucky having Upward Bound programs, a quick Internet search should get you there.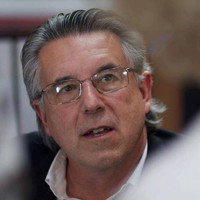 Steve Flairty is a teacher, public speaker and an author of seven books: a biography of Kentucky Afield host Tim Farmer and six in the Kentucky's Everyday Heroes series, including a kids' version. Steve's "Kentucky's Everyday Heroes #5," was released in 2019. Steve is a senior correspondent for Kentucky Monthly, a weekly NKyTribune columnist and a former member of the Kentucky Humanities Council Speakers Bureau. Contact him at sflairty2001@yahoo.com or visit his Facebook page, "Kentucky in Common: Word Sketches in Tribute." (Steve's photo by Connie McDonald)