Rev up your engines, girls — and get those valve cars ready!
For over 100 years, Girl Scouts of Kentucky's Wilderness Road (GSKWR) has taken the lead in providing opportunities for girls to discover, connect, and take action through Science, Technology, Engineering, and Math (STEM).
Bringing together girls from Eastern, Northern, and Southeast Kentucky for a day filled with creativity and innovation, the Girl Scout 500 is GSKWR's first ever valve car race and STEM fest, sponsored by ATech Training and the Covington Rotary Club.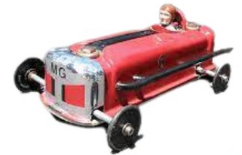 The event will occur on Saturday, June 17 at the future site of GSKWR's Leadership Campus in Erlanger from 2-6 p.m.
Divided into teams of 2-5 middle school and high school girls, ATech Training provided valve car kits that girls have been working on since January to modify on their own with the goal of creating the fastest car.
And a valve car is
A valve car is a hollow vehicle housing made with a valve cover from a car engine and is powered by gravity. This girl-led program, with limited adult guidance, allows each girl the opportunity for creative thinking and experimenting with engineering principles.
The bracket-style tournament will include multiple track races in 15-minute increments.
Following the race, participants will be provided with supplies to decorate the track and commemorate the first Girl Scout 500.
ATech Training donated valve car race kits and the track, with support from the Covington Rotary Club.
Throughout the day, participants will have the opportunity to engage with partners including Duke Energy, U.S. Bank, GE Aviation, Perfetti Van Melle and Mazak who will host a range of stimulating STEM-focused activities, such as building binary bracelets, LEGO robotics, snap circuits, and robotic boats, exposing girls to a wide array of potential career experiences.
For more information about The Girl Scout 500 or to register visit https://www.gskentucky.org/en/sf-events-repository/2023/the-girl-scout-500.html
The GSKWR Erlanger property, the future site of the state-of-the-art NKY Leadership Campus will transform the Girl Scout Experience throughout its 67-county service region.
The Girl Scout 500 is only the beginning of what this property will provide; this flagship campus will be a central hub for the Northern Kentucky community-at-large and will be equipped with facilities for Girl Scout day programs, overnight camping, and multi-purpose quarters for programming, training, enhanced technology for STEM education, as well as outdoor facilities such as a boat house, archery range, and amphitheater.
For more details about the NKY Leadership Campus, or to contribute, please visit https://www.gskentucky.org/en/Support/nky-capital-campaign.html