It was birthday 51 for The Point/Arc of Covington.
And Lee Scheben, President of The Heritage Bank gave the non-profit organization the gift of a lifetime.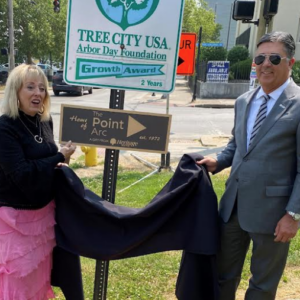 On the corner of Philadelphia and 5th in Covington, Heritage Bank donated a plaque for the ages welcoming people to the City of Covington – Home of The Point/Arc.
"We have a wonderful relationship with Heritage Bank, and of course President Scheben," said Judi Gerding, President and Founder of The Point/Arc. "It's pretty neat getting this life-long gift on our birthday," she said.
The Point/Arc was founded in 1972 by a group of parents fighting for the educational rights of their children, who were diagnosed with an intellectual and developmental (I/DD) disability.
The mission – to help people with disabilities achieve their highest potential educationally, socially, residentially and vocationally. More than this, The Point/Arc has been an organization that identifies gaps in services and provides care and support to fill these gaps – even when government funding sources are not available.
"Over the years," Gerding said, "we've been not only fortunate, but lucky to have people like Lee Scheben and Heritage Bank supporting us and believing in our mission."