By Ryan Clark
NKyTribune reporter
Commissioner Nolan Nicaise has resigned from his position, effective at 6 p.m. Tuesday, the start of the city's regularly scheduled legislative meeting, Mayor Joseph U. Meyer announced.
"He is now officially resigned from the Board of Commissioners," Mayor Meyer reported. "No action by the Commission is required to accept the resignation, so his resignation is official without Commission action."
The Mayor then went on to say they would hold a discussion at the end of the meeting to determine how they would handle the remaining 15 months left on his term.
Meyer said the Board of Commissioners has 30 days to appoint a replacement.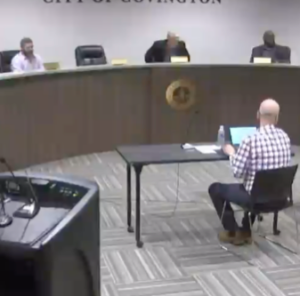 "Dear City Clerk and members of the Board of the Commissioners," Nicaise said in his resignation letter. "I, Nolan Nicaise, will resign from my office as commissioner of the City of Covington, Kentucky, effective 6:00pm, August 8th, 2023."
Near the end of Tuesday's meeting, the Mayor talked of the rules of appointing a new Commissioner. He noted that state law prohibited a special election, but that if Nicaise had resigned even just a few days earlier, it may have made a difference. In that instance, candidates could have applied for November's election, but because this resignation came so late, there will have to be an appointed Commissioner for the remainder of the term.
If the Board of Commissioners do not act within a month's time, then the Governor will have to make the appointment. But the timeline set forth Tuesday night should ensure that won't have to happen.
Here are the rules so far, although the city will release official correspondence and guidelines by noon Wednesday. Then, residents will have 10 days to apply. The applicant must:
Be a resident of Covington
Send in application by Aug. 18
Include statement of why you want the position
Include statement of what you hope to accomplish
Send all to Erin Callery, the administrative assistant to the Mayor and Commissioners, at Erin.Callery@covingtonky.gov
Submit to a background check
The Board said they hope to have the new Commissioner in place by the first meeting in September.
Nicaise was elected to the Board last November. A Covington native, he earned a Master's Degree in Urban and Environmental Policy and Planning from Tufts University. He'd worked in environmental research in Boston and Chicago before becoming an urban planner.
Over the past eight months, Nicaise had been lectured by his fellow Board members and the Mayor on topics ranging from his lack of knowledge of proper procedure to even his choice of wardrobe, when he wore a custom T-shirt that read 'TRANSIT, NOT HIGHWAYS!' at the city's ribbon-cutting ceremony in January for the Brent Spence Bridge corridor project, hosted by President Joe Biden.
In a statement to the Northern Kentucky Tribune after the meeting, Nicaise said he "may better" achieve his objectives for Covington "as a private citizen."
Baker Tilly HR Presentation
Also Tuesday, the public accounting and consulting firm Baker Tilly presented a formal review of the city's Human Resources Department, and they stated their final recommendations Tuesday night.
The presentation noted 24 recommendations, seven of which are of high priority, including:
• Implementing a strategic plan and framework to assist in guiding and encouraging the Human Resources Department into a shared vision.
• Implementing a strategic partner service delivery model to better meet demand services and hire an additional Human Resources Department manager for classification and compensation.
• Establishing clear roles and responsibilities for each position in HR.
• A formal adoption of HR department-specific standard operating procedure manual to establish clear guidelines. 
• Prioritizing a review and revision of employee classification and compensation structure and policies. Conducting a class and compensation study to address irregularities in current structure.
• Creating a strategic talent acquisition plan that tactically supports all city departments. 
• Developing and implementing a city-wide performance evaluation plan. 
Commissioner Tim Downing questioned whether the group could get more specific about how to implement these suggestions within the city's financial and staffing constraints.
Allison LeMay, senior manager, noted that the staff had already worked with Cindy Lewis, Covington's Human Resources director, to establish a timeline and implement some of those recommendations.
To begin, Lewis said she thought she could have a strategic plan developed in the next 30 days. Mayor Meyer said the Board would revisit the topic then.
Eligibility for City Boards
Last week, Commissioners heard a proposal that could change requirements to serve on city boards, which would broaden eligibility, something some officials say is very much needed.
By broadening the pool to include other people who are familiar with city operations, officials said they will have a better opportunity to take advantage of their expertise and benefit the people of Covington.
But Commissioner Tim Downing noted that he would want preference to be given to Covington natives, or legacies of them. Tuesday night, Commissioners approved amendments that said if they're considering more than one person, preference shall be given to those who are a resident.
A final vote will be held in two weeks.
Affordable Housing and Transparency
After several people have spoken in the past weeks about affordable housing at the IRS Site, as well as transparency in the Covington city government, Mayor Meyer decided to comment back.
"I know (people) want affordable housing at the IRS site, but I don't know what they mean by affordable," he said. "The city of Covington more than any other government in Northern Kentucky has led this region in the provision of affordable housing in the last 15-16 years. Over $125 million we've spent on taxpayer subsidized housing. In addition to that, today in Covington, there are literally thousands of units that are available at a very affordable rate. Covington has lots and lots of affordable housing, and we as a city government have taken the lead aggressively in providing for affordable housing — not just for Covington residents but for, in essence, all of Northern Kentucky, because the rest of Northern Kentucky isn't carrying its share.
"So … I invite you to call my office to set up an appointment so we can talk about what you mean by affordable housing."
And on the topic of transparency?
"This city government has been far more transparent than it has been in decades," he said. "We have led the way in the way that we encourage citizen participation. We put all of our information on the website, we give our agendas out weeks in advance, we allow the public to come in and participate. Now, I'm not going to take a second seat to any government in Northern Kentucky in terms of our transparency, because we are doing a much better job today than has been done in many, many years and I would submit we're doing it far better than most governments, too."
Emergency Shelter
Residents also spoke up about issues they have faced with the city's Emergency Shelter, and it was also a topic the Mayor addressed later in the meeting.
"We've heard about the homeless shelter issues tonight — it's sort of the same thing that we run into with the short-term rentals, where we're trying to balance this for various opportunities while we're protecting the residential neighborhoods."
The Mayor said it was obvious the city has a problem with the emergency shelter and the way it works with their clients — but he also revealed another issue that involves the shelter.
"Our ordinance requires that all homeless shelters submit their information about the homeless they're serving to the Kentucky homeless management information system operated by the Kentucky housing corporation," he said. "We've learned that the emergency shelter has not been doing that."
Meyer said something must be done.
"And if I'm going to quote our city solicitor, that when it comes to enforcement of our ordinances, 'We do it without fear or favor,' so this is an issue that needs to be taken up with the management of the emergency shelter. We want them to comply."
Yet, if enforcement must be carried out, "and if it needs to be done within the context of their license renewal, which is up at the end of this month," Meyer said, "then so be it."
New Hires and Promotions
Commissioners approved the new hires and promotions for:
Elizabeth Wetzel, Director of Special Projects and Inter-Governmental Affairs, Administration Department
Joel Baker, Budget Director, Finance Department
Jackson Sora, Police Officer
Kyle Fryman, Fire Department
Derrick Stolz, Fire Department
Ethan Nuckols, Fire Department
Jacob Toole, Fire Department
Brian Wear, Fire Department
Carlos Madierez, Section 8 Inspector
Retirements, Resignations and Termination
Commissioners approved the retirements, resignations and terminations for:
Termination – Veronica Tapia, Part-Time Receptionist
Resignation – David Lillich, Police Office VI Specialist
Resignation – Lois Kugali, Clerk Typist, Police Department
Retirement – Adam Mardis, Firefighter IV, Fire Department
Retirement – Christopher Stallings, Engineer, Fire Department
Board Appointments
Commissioners approved the board appointments of:
Lori Salzarulo, Northern Kentucky Convention Center Board
Jameela Salaah, TBNK
Executive Session
Commissioners ended their meeting by going into an Executive Session "for the purposes of discussing economic development." Meyer said no further business would be conducted.
Next Meeting
The next regularly scheduled Covington Commission meeting will be a caucus meeting held at 6 p.m., Aug. 15, at the City Building at 20 W. Pike St. in Covington. The meetings can be followed live on Fioptics channel 815, Spectrum channel 203, the Telecommunications Board of Northern Kentucky (TBNK) website, the TBNK Facebook page @TBNKonline, and the TBNK Roku channels.