Ryan Salzman has joined the OneNKY Alliance as Project Director effective August 1. He brings a wealth of experience from his successful career at Northern Kentucky University, where he has made contributions to the community and demonstrated a commitment to fostering unity, promoting health, and advancing education – all areas of focus for the organization.
As Project Director, Salzman will accelerate the organization's initiatives in these areas, working with founding President & CEO Karen Finan and the OneNKY Alliance Board. OneNKY Alliance is a collaborating entity that aims to enhance the quality of life for all residents of Northern Kentucky.
"I am deeply honored to join the OneNKY Alliance as the Project Director," said Ryan Salzman. "Having been a part of the Northern Kentucky community for many years, I am well aware of the NKY Metro's potential and its unique strengths. I am eager to collaborate with the dedicated team and community to build upon these strengths and drive meaningful, positive change in the areas of unity, health, and education."
During his time at Northern Kentucky University as associate professor, Salzman demonstrated his passion for community engagement and service. He played a crucial role in various projects including the Future Leaders Internship Program, campus democracy initiatives, and civics-focused instruction. And his research on placemaking focused on community, economic, and political development relevant to our region today. Salzman is in his 5th term as a Bellevue City Council Member, serving as Mayor Pro Tem since 2019.
Governor's appointments
Gov. Beshear has appointed several NKyians to positions on state boards:
To the Kentucky Board of Landscape Architects:
• Gary Wolnitzek of Villa Hills is a landscape architect at Human Nature Inc. and shall serve for a term expiring Feb.1, 2026.
To the the Kentucky Law Enforcement Council
• Jonathan McClain of Burlington is chief of the Belleview Police Department. He replaces Anthony Lucas, whose term has expired, and shall serve for a term expiring July 18, 2027.
• Thomas Szurlinski of Florence is an attorney. He replaces Katherine Bennett, whose term has expired, and shall serve for a term expiring July 18, 2027.
• Spike Jones of Covington is chief of police for Kenton County and shall serve for a term expiring July 1, 2027.
• Troy Young of Lawrenceburg is the mayor of Lawrenceburg and shall serve for a term expiring July 1, 2027.
To the Kentucky Health Benefit Exchange Advisory Board:
• David Roode of Ludlow is a symphony musician and shall serve for a term expiring
June 3, 2025.
NKU cutting food waste, practicing sustainability
In just one year, FUEL NKU and NKU Sustainability, have saved more than 3,000 pounds of food waste from the landfill! Composting became part of FUEL's daily operations last summer when NKU partnered with GoZero Services to further our sustainability efforts.
To date, NKU has diverted 3,286 pounds of waste which is a huge number when you consider nearly 40 percent of all food produced goes to waste and 30 percent ends up in landfills. Imagine if Mount Rumpke was 30 percent smaller.
"NKU Sustainability was excited to partner with FUEL NKU to address their food waste and help FUEL meet their organizational mission of 'Zero Waste,'" Tiffany Budd, NKU Sustainability Coordinator, said. "Composting is a top concern for NKU students, and we have taken the first step in diverting thousands of pounds of campus food waste from landfill."
Composting is just one of many sustainability initiatives by FUEL NKU, NKU's on- campus food pantry, and NKU Sustainability. For more information on those initiatives, please visit their websites: FUEL NKU and NKU Sustainability.
Kentucky Living cites NKY attractions
Kentucky Living announced its 14th 2023 "Best in Kentucky" award winners — based on the votes of its readers.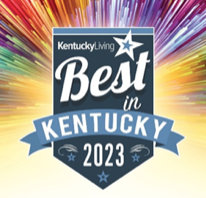 Among the winners are two from Northern Kentucky:
• Arc Encounter, second place for Best Kid-Friendly attraction and
• Creation Museum, third place for Best Museum.
"The Award is the clebration of all things Kentucky," said Joe Arnold, Kentucky Electric Cooperatives' vice president of strategic communicatiions. "We are pleased to recognize our hometowns, people, and favorite places."
For a full list of winners, click here.