DCCH Center for Children and Families will celebrate 175 years of caring for Kentucky's most vulnerable children and families with a family-friendly festival Saturday, September 30 from 4 p.m. to 10 p.m.
Festival fans will enjoy a family friendly festival similar to the "good ole days" with live music from great local bands, Children's Corner with games and inflatables, a corn hole tournament, food and beer truck alley, and bourbon tasting for adults in its historic barn. The Lasting Legacies Family Festival will be held on their beautiful festival grounds within the park-like setting of their Fort Mitchell campus. Nearly 1,500 families are expected to visit DCCH over the course of the day.
There have only been three executive directors at DCCH since 1989, when Sr. Jean Marie Hoffman, S.N.D stood in that role for 25 years. Bob Wilson was executive director from 2014-2023, and Denise Govan now serves in that position as president and CEO. All three will be present at the festival and look forward to meeting people and sharing our lasting legacy.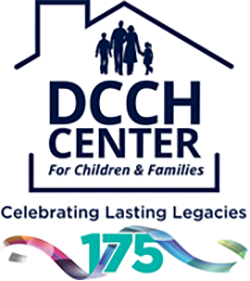 "I cannot think of a better way to help DCCH Center for Children and Families celebrate their 175th year of providing care to children and families than for former residents, staff, families, and friends of DCCH to come to the festival to celebrate their years of service, renew friendships, and reminisce about the good old days at DCCH. I look forward to catching up with everyone," said Sr. Hoffman, who served as executive director from 1989-2014.
DCCH was founded in 1848 as St. John's Orphan Society. In 1957, the name was changed to St. John's Children's Home when the Sisters of Notre Dame assumed charge of the residence. In 1961, the Diocese of Covington announced the merging of St. John's Orphanage and St. Joseph's Orphanage in Cold Spring into one facility in Fort Mitchell. The name was changed to Diocesan Catholic Children's Home in 2012 and since then has to DCCH Center for Children and Families. DCCH Center is affiliated with the Diocese of Covington.
Many individuals and families have been served over the past 175 years and that history lives on at DCCH. When visiting the DCCH campus, there are photos from the early 1900's and always someone to tell a story about the past and the future of the agency.
"A lot has changed during the 175 years at DCCH, but there remain some persistent common threads that weave through the fabric of our history," said Bob Wilson, who succeeded Hoffman as executive director from 2014-2023. "While our services may have adapted over time to meet the needs of our clients, our commitment to provide hope and healing to children and families who most need them is as strong today as it has ever been."
The agency operated as a traditional orphanage when founded 175 years ago. In more recent years, DCCH Center shifted its focus to meet the changing mental health needs of children who have experienced trauma and families who may be at risk. Today, DCCH provides around the clock residential treatment for children ages six to 14 with significant emotional and behavioral challenges, often related to extreme neglect and/or sexual, physical, and emotional abuse.
DCCH also provides therapeutic foster care and adoption services, an independent living program, targeted case management, and outpatient therapy, which is open to the public. DCCH strives to improve the lives of children who have been impacted by childhood trauma and to bring families together for a bright, healthy, and happy future.
"I am extremely proud to be serving as the leader of this incredible organization that has remained true to the mission of serving children and families impacted by child abuse and neglect for 175 years," said President and CEO Denise Govan. "As we look to the future, I see a road paved with years of care and love and remember that God has carried DCCH through a lot in 175 years and will continue to be there for us."
DCCH Center for Children and Families