Horizon Community Funds will host its annual Philanthropy Symposium on September 25, 8:30 a.m. to 1 p.m., at the St. Elizabeth Training & Education Center.
The program will include the Horizon Nonprofit Awards honoring five leaders serving NKY nonprofits.
Those awardees are:
• Jane Herms, Family Nurturing Center 
Nonprofit Executive of the Year (Large Organization) 
• Aaron Broomall, Faith Community Pharmacy 
Nonprofit Executive of the Year (Small Organization)
 
• Julie Raia, CHNK Behavioral Health
MVP Staff Member of the Year  
• Wilbert Ziegler, Thomas More University Board Member
MVP Board Member of the Year 
• Katie Cooper, Adopt A Class Volunteer
Volunteer of the Year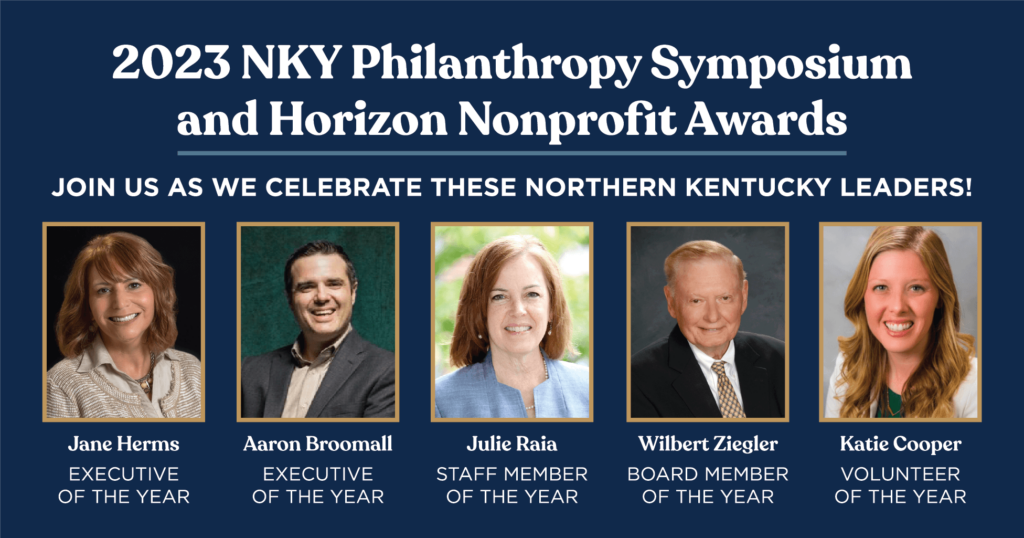 This year's Symposium will focus on education and key topics being addressed in our region in this field, including:
  
• a regional snapshot on where NKY stands with education data;

• addressing family engagement and out of school time learning through the NKY Student Success Fund;

• student mental health strategies; and 
• innovation in the education landscape.

To purchase tickets and register for the event, click here.