Bourbon enthusiasts rejoice.
 
While America's distilling heritage started before the country was founded, an act of Congress first recognized bourbon as a unique product of the United States in 1964. Federal law states bourbon must be produced in America, contain at least 51% corn and mature in freshly charred oak barrels for at least two years. In 2007, the U.S. Senate passed a resolution declaring September as National Bourbon Heritage Month.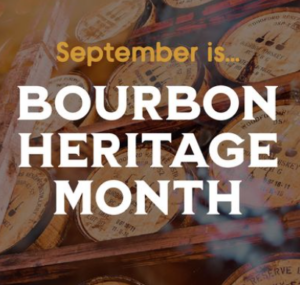 With several distilleries located in Northern Kentucky, it's no secret that the Commonwealth is home to world-famous bourbon. According to the Kentucky Distillers' Association, distilling is a $9 billion signature industry in Kentucky, generating more than 22,500 jobs with an annual payroll topping $1.23 billion. Distilling generates $ 286 million in local and state tax revenue every year. That's $180 million more tax revenue for the government annually versus 12 years ago.
 
"Bourbon is big business in Northern Kentucky and it's only growing. By 2025, it's on track to be a $9.3M business and that's something to celebrate," said meetNKY President and CEO Julie Kirkpatrick. "To honor this industry that means so much to our community, we invite bourbon fans from across the country to join us throughout the month to experience the unique stories of the distilleries, restaurants and bars along The B-Line®, the edge and beginning of the 'Bourbon State'."
 
Launched in 2018, The B-Line® is Northern Kentucky's official self-guided experience of bourbon bars, restaurants and distilleries aimed at introducing millions of bourbon-curious visitors to the region to the famed Kentucky Bourbon Trail®, which topped 2 million visitors in 2022. Seven new stops were added to The B-Line® in 2023, bringing the total number of establishments throughout Covington, Newport, Independence, Sparta, Augusta and Maysville to 25. A full list of stops can be found on The B-Line's website.
 
A recent addition to The B-Line®, Augusta Distillery was named winner of the world's best bourbon at the 2023 San Francisco World Spirits Competition — shares excitement for what's ahead for the industry.
"Augusta Distillery is proud to be a member of both the Kentucky Bourbon Trail Craft Tour® and The B-Line®. Bourbon is a signature product of the Commonwealth and a major source of tourism due to the mystique, history, and legacy of the spirit," said Augusta Distillery Founder Ryan Edwards. "We're excited to be among the go-to stops here in Northern Kentucky and look forward to breaking last year's record number of visitors."
 
Throughout the month of September, meetNKY, in conjunction with The B-Line®, will share a running list of ways to celebrate. Some of the many festivities already planned include:
·       Old Kentucky Bourbon Bar (OKBB) – OKBB invites the community to join them in sampling their selection of more than 900 different bourbons this month! Colonel Aaron and the crew will be dusting off some old classics that they have been reserving for this special month. Each OKBB bartender will also be offering specials from their back pocket cocktail menu each day during the month of September.
·       Pompilio's Restaurant – Pompilio's Restaurant will offer guests weekly bourbon flights with a new selection each week (available Monday through Thursday). Offerings will include New Riff (Single Barrel, Single Barrel Rye, 6 Year Malted Rye), brands of Buffalo Trace (Eagle Rare, Blanton's, Stagg Jr.), "Sinners and Saints" (tastings of Larceny, Elijah Craig, Basil Hayden) and Michter's (US 1 Straight Bourbon, US 1 Straight Rye, Sour Mash). Pompilio's will also offer a specialty bourbon cocktail each weekend in September and bourbon-inspired dinner and dessert features.
·       Prohibition Bourbon Bar – The Prohibition Bourbon Bar at Newberry Bros. Coffee in Newport will celebrate National Bourbon Heritage Month by hosting a fundraiser for the Stray Animal Adoption Program (SAAP). Guests are invited to donate to SAAP through their website before Saturday, September 16 at 7 p.m., to be entered to win their "WHO DEY! Package." This includes four Club Level Tickets (Section 237) for the Cincinnati Bengals v. LA Rams game on September 25, and a tailgating package with one bottle of Buffalo Trace, Eagle Rare, Weller Special Reserve, E.H. Taylor Small Batch, Sazerac Rye, Benchmark Full Proof & Blanton's. Tickets can be purchased here and range from $10 – $200.
·       Revival Vintage Spirits – Revival Vintage Spirits, home to a carefully curated collection of rare and vintage bottles, will be offering daily bourbon specials on rare vintage bourbon or newer rare bourbon releases with vintage bourbon and new rare bourbon tastings starting at $5. Whether you're searching for your first bottle or your 10th, the Revival team will lead you through a bourbon experience uniquely crafted around your interests and tastes.
·       Smoke Justis – Smoke Justis is celebrating National Bourbon Heritage Month with several events. Topping the list is their Tiki Night on September 6, where guests try fun, tiki cocktails with a whiskey-based twist in their Bourbon Lounge. A Roebling Rare Tasting Night will be hosted on September 20 – Guests of this event will enjoy a Roebling Rare welcome cocktail, a 1 oz pour and a bottle for $110. Learn more about all the events and specials happening throughout the month at Smoke Justis by visiting them on Facebook.
·       Tousey House Tavern – Tousey House is celebrating National Bourbon Heritage Month with a selection of bourbon-infused specials, including their Tousey Filet Mignon. This pan-seared, most tender of all cuts is served over Chef's BLT risotto, topped with crispy fried onion straws and finished with a Maker's Mark bourbon butter. Bourbon lovers can also enjoy Tousey House's go-to cocktails, including the "My Old Kentucky Mule" made with Buffalo Trace Bourbon and the "Erastus Tousey," made with their Tousey featured barrel pick bourbon, Carpano's Antica formula sweet vermouth, Peychaud's bitters, and Bada Bing cherries.
·       Wiseguy Lounge – Wiseguy Lounge will offer a weekly featured distiller and weekly specials to celebrate the month. Participating distillers along The B-Line® include Neeley Family Distillery, Boone County Distilling Co., New Riff, Augusta Distilling and more. Each event will offer a guided flight and immersive experience led by a special guest from each distillery. Guests will also partake in special raffles and giveaways at each event. Tickets are first come, first serve and range from $50-$100. Tickets can be purchased on Eventbrite.
For a full, updated list of participating establishments, events and specials, visit The B-Line® blog HERE.
meetNKY