By Dan Weber
NKyTribune sports reporter
Back in August, the Great Midwest Athletic Conference football coaches picked newcomer Thomas More to finish 10th among the league's 10 teams in their first year as an NCAA Division II program.

But that was then. After their third straight win Saturday, 26-10 over Walsh University in North Canton, Ohio, and second in two GMAC games, TMU is now 3-1 on the season. And the Saints will battle unbeaten Tiffin (4-0, 2-0 GMAC) for the No. 1 spot Saturday at TMU's Republic Bank Field in a 7 p.m. game after a 26-10 win over Walsh at North Canton, Ohio, Saturday.

So how are the Saints, whose motto for their inaugural NCAA Division II season is "Earn it," doing it?

Not a secret. After four games, the Saints lead the GMAC in defense, giving up just 14.5 points a game. Which is pretty much the way they did it Saturday, scoring 26 straight points after falling behind 10-0 midway through the first period after giving up a TD on a blocked punt to make it 10-0.


But it was Thomas More from then starting with a 55-yard fumble return by redshirt freshman
Obadiah Commodore
out of Lexington Frederick Douglass that led to a five-yard
Jaden Hall
(Springfield, Ohio, Shawnee) touchdown run to get the Saints on the board with 6:38 left in the first quarter.
From that point, it would be all TMU as the Saints scored on an 11-play, 50-yard drive the next time they got the ball to go ahead for good, 13-10 before the first quarter ended on a one-yard Hall rush. Then TMU drove the ball 80 yards in the second quarter as quarterback
Rae'Von Vaden
(Louisville Moore) hit
Mike Kirch
out of Cincinnati Elder to improve the Saints' lead to 19-10.
The game's final score came before halftime after a 33-yard
Freddie Johnson
(Cincinnati Colerain) punt return set up a 10-play, 33-yard TD drive with the score coming on a Vaden one-yard plunge to finish the game's scoring at 26-10 before halftime.
Top offensive performers for TMU included Vaden with two TDs, one passing, one rushing, on 98 yards passing; freshman running back
Emable Wakilongo
(Centerville, Ohio) led TMU with 98 rushing yards on 21 carries; and Hall, who had 65 yards and two TDs on 14 carries; and Kirch, who caught four passes for 73 yards and a TD.
On defense,
Del Thomas
(Fairfield, Ohio) led the Saints with six tackles, one for loss;
Trey Brausch
(Alexandria/Bracken County) added three tackles for loss with a sack; while
Jackson Gear
(Amelia, Ohio) and
Ross Halverstadt
(Covington Catholic) each had a sack for a TMU defense that recorded eight quarterback hurries and six pass breakups.
UP NEXT:
Thomas More returns home to Republic Bank Field Saturday for a GMAC matchup against Tiffin University (7 p.m.), picked second in the coaches' preseason balloting and the top offensive team in the GMAC, scoring at a 52.5 points-a-game clip.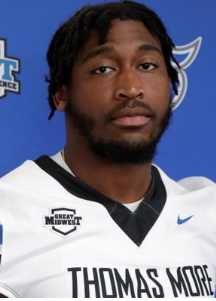 In other TMU action this past weekend:

• WOMEN'S SOCCER: The Thomas More women's soccer team remained winless with a 3-0 loss to Findlay fell to Findlay Saturday as the Saints fell to 0-5-2 and 0-3-1 in conference.

UP NEXT: The Saints return to action Thursday at home on Republic Bank Field against Lake Erie at 5 p.m.

• WOMEN'S VOLLEYBALL: The Thomas More women's volleyball fell to 1-11 on the season (and 0-4 in the G-MAC) with a 3-0 loss to Hillsdale College Saturday on the back end of a two-game road trip. TMU had fallen Friday to Northwood University, 3-0.

Against Hillsdale, Thomas More jumped out to a 16-10 lead in the first set and a 7-1 early edge in the second before losing both, 25-19 and 25-23 respectively. TMU would fall 25-15 in the third.

UP NEXT: Thomas More will be back at the Connor Convocation Center Friday night for a matchup with the Ashland University Eagles at 7:00 p.m.

• WOMEN'S GOLF: Led by Rachel Hummel (Cincinnati Mercy McCauley), the TMU women's golf team finished eighth in the Ashland Eagle Invitational Sunday at Ashland Golf Club with a team score of 721 (367, 354). Grad student Hummel's 83-84-167 finished 17th.

UP NEXT: The Saints return to action at the William Beall Fall Classic hosted by the University of Findlay on Monday-Tuesday, Oct. 2-3.