By Jack Brammer
NKyTribune reporter
 
When an ebullient Dr. Cady Short-Thompson was introduced Wednesday as Northern Kentucky University's new president, she said the scene for her was like "a beautiful full-circle moment." She asked to savor it.
The first woman to become a permanent, not interim, president of NKU was referring back to her days as a communications professor and department chair at NKU to Wednesday's announcement that on Oct. 2 she will become the seventh president of the public university in Highland Heights.
Short-Thompson, 55, will work under a four-year contract with an annual salary of $400,000 to head the university with about 15,000 students.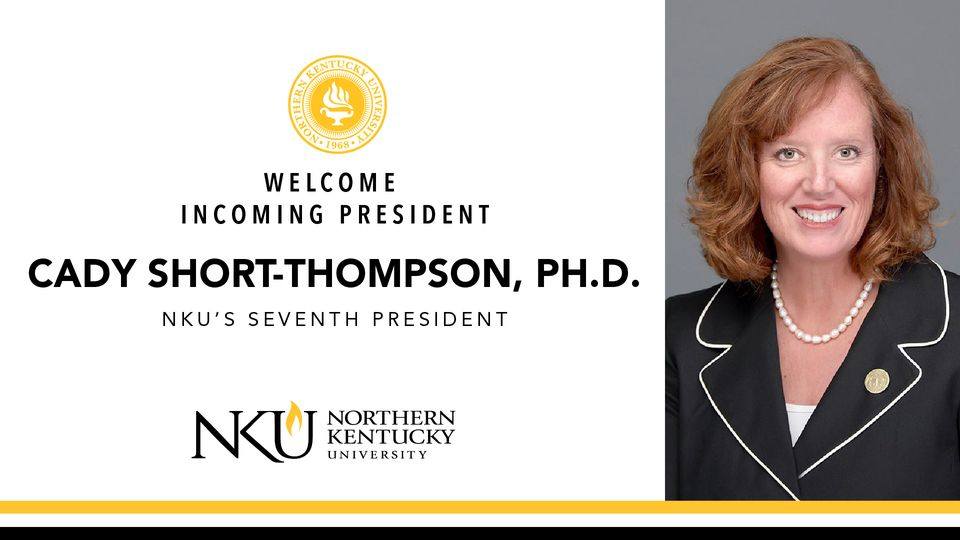 The former president, Ashish Vaidya, who departed ways with NKU when a large budget deficit was detected, received a base salary of $450,000. There were different thoughts as to whether Vaidya's departure and the budget deficit were related.
The university's Board of Regents unanimously made the appointment of its new president Wednesday morning at its regularly scheduled meeting. Short-Thompson minutes later was formally introduced in a special session, where she received a lengthy standing ovation.
She enthusiastically told the crowd that they can expect from her as the NKU president quests for excellence and being consultative but decisive, good about asking what should be stopped, an active listener, a quick learner, a pragmatic visionary capable of seeing the big picture and a tireless worker.
She said she is "eager" to support the needs of the students and called on help from the faculty and staff, the board, alumni and community. Assisting with her transition into the role will be Bonita Brown, who has served as interim president since last Jan. 18.
Help will be useful for the school that has been experiencing financial woes.
NKU announced last year that it had a budget deficit of more than $24 million. Some faculty members bristled when it was learned that the board in January offered $225,000 in raises and bonuses to the university's presidential cabinet, which is mainly made up of the university's vice president.
The deficit has been reduced to $9.6 million, with plans to reduce it another $5 million by 2025. In 2022-23, NKU's total operating budget was $271.6 million.
But Wednesday was a day to express optimism about NKU's future. Short-Thompson said it has a "big, bold, bright future."
Short-Thompson brings to NKU a wealth of experience in education and leadership.
She currently serves as chief executive officer and director of Breakthrough Cincinnati. It is a non-profit focused on educational equity that provides rigorous college preparatory programs for high need and high potential middle and high school students and inspires and trains college students as the next generation of teachers.
Before joining Breakthrough Cincinnati, Short-Thompson spent 25 years in higher education. She most recently was provost and a professor at Hope College, a private Christian liberal arts college in Holland, Mich., and dean of the University of Cincinnati Blue Ash College, a regional campus of the University of Cincinnati.
She was an award-winning professor of communications and department chair at NKU from 1996 to 2010.
Short-Thompson earned her bachelor's degree in 1991, her Master's in 1992 and PhD in 1997 from the University of Cincinnati. She has lived in Cincinnati most of her life.  She and her husband, Steve, have three children in college.
Short-Thompson said it is fitting that her first and final positions in education will be at NKU.
"There's no place like home," she said.