By Melissa Patrick
Kentucky Health News
Kentucky has seen an uptick in COVID-19 cases, and local outbreaks, along with other illnesses, have shut down several school districts. This has also been reflected in hospital admissions, which is considered one of the most reliable indicators for tracking the virus since the end of the public-health emergency on May 11.
In the first two full calendar weeks of August, the latest period for which figures are available, Kentucky saw a 110% increase in daily COVID hospital admissions, with an average of 28 patients per day, according to the COVIDd-19 tracker of The New York Times, which uses Centers for Disease Control and Prevention.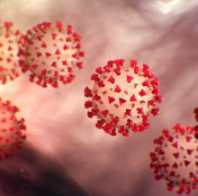 During that two-week period, Kentucky had 20 hospital admissions per 100,000 people, which was 25% higher than than the national rate of 15 per 100,000.
More recently, several of the larger hospitals in Kentucky said the uptick has continued, while noting that the increases have been small.
Data provided by UK HealthCare show that through mid-June, the hospital system was taking care of at least 15 to 20 COVID-19 patients each week. That dropped to between eight and nine in mid-July, then started to slowly increase until it reached 19 to 29 COVID patients the week of Aug. 21. The next week, it was 26 to 27.
These numbers reflect the number of people with an active COVID-19 infection at UK HealthCare and also those who came in with an active infection, but were still in the hospital when they were no longer infectious, UK HealthCare spokeswoman Allison Perry said.
Dr. Nicholas Van Sickels, an infectious disease physician and the interim director for UK HealthCare Infection Prevention and Control, said in an email that this small uptick in COVID cases is "largely driven by the newer EG.5 variant of COVID."
He added, "With schools starting back, seeing an increase in COVID-19 and other respiratory viruses isn't unusual. As we move into the colder season and people begin spending more time indoors, we would also anticipate seeing additional increases in the prevalence of these viruses."
Van Sickels offered suggestions for how to thwart the virus.
"You can help prevent the spread of these viruses by practicing good handwashing hygiene; staying up to date on the latest available vaccines for COVID-19, flu and RSV; and wearing a mask if you are experiencing any symptoms of respiratory illness when you are around others," he said. "This is especially important for people who are at a higher risk for developing severe complications from viruses including COVID-19, flu, RSV and more."
RSV is respiratory syncytial virus, which is a common virus that usually causes mild, cold-like symptoms, but can be serious, especially for infants and older adults.