By Dan Weber
NKyTribune sports reporter
Coming off an impressive 37-0 win over the University of Virginia Wise, the Thomas More Saints prepare to open their new NCAA Division II Great Midwest Athletic Conference schedule Saturday (7 p.m.) against Ohio Dominican at Republic Bank Field.
The 1-1 Saints seem to be in a good place on both sides of the ball after recording their first shutout in five seasons, limiting the Cavaliers to a mere 111 yards of offense. With its offense, TMU got 114 yards passing from quarterback Rae'Von Vaden (Louisville, Moore) on 12 of 24 completions for two touchdowns. He also led TMU in rushing with 67 yards and one touchdown.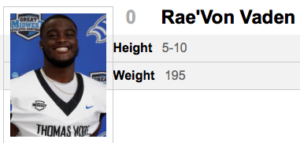 Sophomore Preston Agee (Alexandria/Covington Catholic) led TMU with 38 receiving yards.
On defense, Del Thomas (Fairfield, Ohio/Fairfield) led the way with five tackles while three Saints – Jackson Belk (Union/Ryle), Jackson Gear (Amelia, Ohio) and Vuk Sailovic (Independence/Simon Kenton) each recorded a sack.
Special teams placekicker Luke Iden scored 13 points with three field goals to lead the Saints in scoring while punter Elgin Phillips (Fairfield, Ohio/Fairfield) placed three punts inside the UVW 20-yard line with one of 58 yards.
All it took for the Saints to get on the board early was a 15-yard Vaden pass to Freddie Johnson (Cincinnati/Colerain) and then a 16-yard run by Mike Kirch (Cincinnati/Elder) for a quick 7-0 lead.
Freshman Emable Wakilongo closed out the scoring in the fourth quarter with a 10-yard run for his first college touchdown after a UVW turnover. His TD followed that of Tiffin University-transfer Jaden Hall's (Springfield, Ohio/Shawnee) 30-yard catch and score to make it 30-0.
• WOMEN'S VOLLEYBALL: Not to be outdone, the TMU volleyballers recorded their first-ever NCAA D-II win the UIndy Invitational Saturday, downing Central State 3-1 before losing a second match to host University of Indianapolis, 3-0. The Saints took the decisive two games, 25-15 and 25-11 led early by Ebony Gomez (Merida, Venezuela/Colegio Salesiano San Luis) and Brenna Young (Spring Hill, Tenn./South Oldham).
Sophomore Emily Acito (Cincinnati/Mercy McAuley) had 10 kills, junior Sam McClanahan (Georgetown, Ky./Scott County) had 33 assists and 11 digs for a second double-double this season, Asia Ferrando had 13 digs and Sydney Hilderbran (Cincinnati/Lakota West) had 10 block assists of the Saints' 25 total.
UP NEXT: The Saints head to Cedarville, Ohio, Friday for a 7 p.m. match against Cedarville University in their G-MAC opener.
• WOMEN'S SOCCER: The TMU women tied Purdue Northwest 1-1 Saturday in Hammond, Ind., bringing their record to 0-2-1. The Saints' lone goal came off the foot of Andela Popovic (Belgrade, Serbia/Belgrade HS) in the 73rd minute, TMU's first goal of the season for a 1-0 lead. Purdue Northwest followed with a tying penalty kick in the next minute for the final score. Sophomore Lauren Welsh (Ballyclare, Northern Ireland Ballyclare) recorded six saves in goal for the Saints..
UP NEXT: TMU returns to action Wednesday in North Canton, Ohio against Walsh at 5 p.m. for the team's first Great Midwest Athletic Conference game.

• WOMEN'S CROSS-COUNTRY: With three Top 10 finishers, the TMU women finished third in the Hanover Invitational Saturday. Sophomore Dyllan Hasler (Independence/Scott) finished first overall with a time of 19:31.7. Sarah Faught (Georgetown, Ohio/Georgetown) came in at No. 3 with a time of 20:10.6 while Sarah Bertsch (Wilder/Newport Central Catholic) placed eighth in 20:59.7.

UP NEXT: TMU returns to action Friday against IUPUI at Shelbyville, Ind.

• MEN'S CROSS-COUNTRY: The TMU men finished fifth at the Hanover Invitational Saturday in a 6K event where the Saints were led by junior Nick Lanter (Cincinnati/La Salle) who finished 13th with a time of 20:35.7. On his heels in the No. 14 spot was senior Austin Shaffer (Independence/Simon Kenton) with a time of 20:37.4.

UP NEXT: The Saints men join the women Friday at IUPUI in Shelbyville, Ind., for a meet that will have them running their more standard 8K course.

Contact Dan Weber at dweber3440@aol.com. Follow him on X (formerly Twitter) @dweber3440.