Wenzel Whiskey, a whiskey blending experience and event space in Covington, and well-known Cincinnati mixologists and entrepreneur Molly Wellmann, have teamed up to release a new limited, locally distilled whiskey called The One 50th Blend.
The limited bottle release celebrates Wellmann's 50th birthday and the 150th anniversary of whiskey being produced at Wenzel. A limited number of bottles will be available for sale Saturday, November 25 at Wenzel Whiskey and Wellmann will be on-site to sign bottles.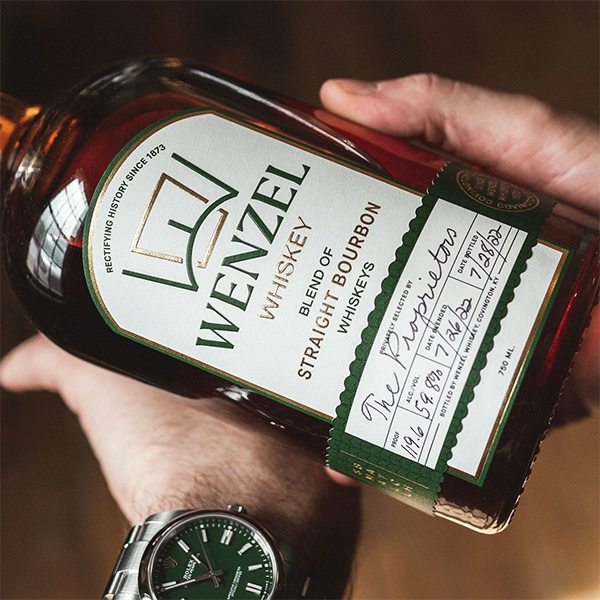 "This is such an iconic way to celebrate a 50th birthday," said Wellmann. "I had the pleasure of joining several of my friends knowledgeable in spirits for Wenzel's unique whiskey blending experience where we all created and blind tasted our own whiskeys. Mine won, and that's how we ended up with The One 50th Blend Gold Label release."
Among the friends to join Wellmann were Jake Warm, owner of O.K.I., Brad Bonds, co-founder of Revival Vintage Bottle Shop, and Bill Whitlow, operator of Rich's Proper, Hangry Omar's and the soon-to-open Opal Rooftop Restaurant and Bar who serves as brand ambassador for Wenzel Whiskey. This friendly competition and collaboration resulted in the new limited-edition blend.
"Molly and I first met in 2012 while she was opening OKBB and I was opening Goodfellas and Wiseguy Lounge in Mainstrasse Village," said Whitlow. "We've become great friends and, while we've done some fun collaborations over the years, this is the biggest one we've done to date. What a perfect way to celebrate two regional icons – Molly Wellmann and bourbon."
Bottles of The One 50th Blend will be available for purchase, while supplies last, for $99 each on Saturday, November 25 starting at noon at Wenzel Whiskey, located at 15 Tobacco Alley in Covington. Wellmann will be onsite to sign bottles for those interested.
For more information on Wenzel Whiskey and the distiller's whiskey blending experience and signature whiskey, The Proprietors, visit wenzelwhiskey.com.
Wenzel Whiskey