By Steve Flairty
NKyTribune columnist
Last week was another of those times that affirm my reasoning for titling this column "Kentucky by Heart."
Along with perusing a number of Kentucky-related historical and contemporary sources for research I was doing and reviewing several books for Kentucky Monthly, I had a couple of invigorating public gigs and a visit to the Kentucky History Center (KHC).
On Thursday night, it was sharing my talk, "Shining Light on Kentucky's Everyday Heroes," at the Woodford County Library, in Versailles. Many in the audience were friends from church, and for most, the first time they'd heard my message as a chronicler of inspirational stories from around our state. I felt appreciated, as I did of them also.
The next day, my wife Suzanne and I traveled to Frankfort to the Kentucky History Center to view, specifically, the recent addition of the "Our Stories, Our Service: Kentucky's Women Veterans." Upon arriving at the KHC, we were greeted at the front desk by Roger Barlow, a retired Kentucky Department of Corrections employee. We paid, and seeing no other patrons around, we began a scintillating conversation with Roger that lasted about fifteen minutes. Roger showed his passion for Kentucky by sharing a boatload of its history and particularly the life and death of Abe Lincoln. I'm figuring those few minutes with Roger were almost worth the price of admission, but we got even more value after entering the women's veteran showcase.
A well-done exhibit, it was everything positive we'd been told. A moving film showing a gathering of women Honor Flight participants looped in the background as we walked around reading individual profiles of women veterans. Many are demonstrated overcomers, and all are sparkling examples of unselfish service to our state and country. Not surprisingly, many served in service organizations before they were officially allowed to enlist in the U.S. military.
Our women veterans are treasures, and the Kentucky History Center clearly demonstrates such. Check it out in person and also read a highly informative article on the exhibit by Kristy Horine in the November issue of Kentucky Monthly. You'll be touched by the authenticity of the individual accounts.
The following day saw us making the 95-mile trip to Columbia, where I participated in the Adair County Regional Book Fair for the second consecutive year. I looked forward to being back, not because I thought about selling lots of books, but to use the time and place to see old friends and possibly gather stories for a future column.
The book gathering, in its ninth year, attracted a lot of fledgling and generally local authors. People like Lanny Tucker from Greensburg and his books on Green County, including Boys High School in Green County: 1923-2023; Oscela: The Lost River Town of Green County; and History of Green County. The book fair was started by former teacher Mike Watson and the dynamic mayor of Columbia, Pamela Hoots. I've noticed a strong sense of place and appreciation of familial roots permeating the atmosphere. Fellow community members are also lifted up; it's down home soothing of the soul and "feel good" stuff.
"Mayor Pam" introduced me to a 74-year-old person who had overcome some bad decisions in his life, bringing severe consequences. She called him a "special" individual and I agreed after hearing his story.
Benjamin "Dwan" Hadley was brought up in a hard-working farm family in Adair County. Among other jobs along the way, he served as a state trooper, starting in 1973. After a couple of years at that position, Dwan was offered a position with the State Narcotics Division and accepted it. In time, he said in his memoir, How I Met the Man, "I was valued as a prosperous and trusted agent. To pass the test from the underworld, I often went in posing as a user." But while that may have been a good strategy to catch users and bring them to justice, it had a chilling side effect.
Dwan Hadley, the hunter, developed his own drug addiction from his law enforcement work. He became, he said, "all alone where the state of anxiety was my new address and uncertainty my new dwelling. And I became the very criminal I had spent almost two decades trying to bust." He became "the hunted," and he would be incarcerated.
In May 2002, he was arrested on drug charges, and in November, was sentenced to ten years in Federal prison for the crimes of producing and trafficking in marijuana and meth. But while in jail before his sentencing, Dwan had a transformative Christian religious experience. It appears that it took hold powerfully. After serving his time and becoming a changed man for the better, he began speaking in churches about his story of redemption. He also has written four books, starting with the aforementioned How I Met the Man.
Talking to Dwan at the book fair, I had the sense of being with a person eternally grateful to be where he is today, forgiven for the mistakes of the past and now a contributing member and inspiration for the Adair County community.
Looking back over the week, it was three towns worth of Kentucky by Heart memories set securely in my back pocket, ready to mingle happily with a host of others.
I am blessed to be out amongst such Kentuckians.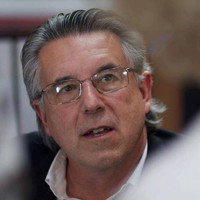 Steve Flairty is a teacher, public speaker and an author of seven books: a biography of Kentucky Afield host Tim Farmer and six in the Kentucky's Everyday Heroes series, including a kids' version. Steve's "Kentucky's Everyday Heroes #5," was released in 2019. Steve is a senior correspondent for Kentucky Monthly, a weekly NKyTribune columnist and a former member of the Kentucky Humanities Council Speakers Bureau. Contact him at sflairty2001@yahoo.com or visit his Facebook page, "Kentucky in Common: Word Sketches in Tribute." (Steve's photo by Connie McDonald)